8/15/13 - The two models that were made available in my announcement yesterday have both been sold. Many thanks for all the interest!
8/14/13 - Although I reported this project as being sold out, I have two models available, one version #6 and one version #10. These models were being held over an extended period for a customer, but I have finally had to make them available for purchase by anyone that may be interested. If you are interested, the price remains at the original $650 each although they have been selling for more in the secondary market, get in touch by phone or E-mail to purchase.
1/08/13 - As noted above, this project is now sold out, let the search begin for those who procrastinated!
11/24/12 - I have had a number of inquiries regarding the availability of models from this project, there are now two available: a version #5 and a version #6. The prices in the after-market had started to rise even before the availability was at this point, but the two remaining models are still priced at $650 each.
12/10/09 - Just a brief update to advise that there are a hand-full of models from this project still available. Not all versions are available, so please contact us directly before ordering so we can let you know exactly what we have.
12/12/08 - There have been many requested to purchase extra containers that were used in this project and we have been able to supply a very limited number thus far. We now have two more sets (12 each) of HB1 containers and just a few individual HB1 and DB4 containers available for purchase. If you are interested contacted us directly for the details.
11/19/08 - Photos of all the G22b versions produced have been added to this project site along with the pertinent detail information.
10/19/08 - The G22b's have cleared customs and the delivery process will begin tomorrow!! There are only a very limited number of models available at this point so if you are interested do not delay in contacting us.
10/13/08 - A further update regarding the delivery of this project; we have confirmed that the models are now scheduled to be on the ground in Detroit on the 17th of this month. We are tracking the shipment each step of the way with nightly phone calls from overseas confirming the actual location of the models. If all goes reasonably well we will be delivering models next week!!!
10/01/08 - Just a bit of housekeeping for our reservation holders on the G22b project. There have been a number of inquiries about the processing of final payments for reservations on this project, until now they had not been processed awaiting resolution of the delivery issues. As of today all final credit card payments have been processed so if until now you have not seen the charge on your account it should show up in the near future.
9/28/08 - There is finally good news, the models are on the way to our shop once again, arrangements were made while in Korea so this time there should hopefully be no unforeseen issues along the way. The underlying positive in the whole process is that the models are so good that they will make the wait well worth the anticipation. This project will certainly serve as a landmark for us, the attention to detail that Mr. Sin our builder has provided in completing these models is without peer, if you understand model building you can see the caring touch that was required to fashion these models from the raw materials used. We are proud as you can tell and are very anxious for you to see the finished models first hand.
8/13/08 - We have been struggling to get the delivery of these models from Korea under control and have had several obstacles which have been non-routine in nature. The promised letter for reservation holders will finally be going out as it seems we have most of the issues resolved and everything should be finalized during our next visit to Korea and Tokyo. We had held off on sending the update letter until we had concrete information regarding the status of the delivery. We thank all of our reservation holders for your patients and understanding of the fact that 'things' do not always go as we would like!
6/27/08 - A brief update to advise that an update letter is in process and is being sent to all reservation holders providing the current delivery status for this project. Many of our clients still do not access the Internet so we must remain mindful of that fact.
5/04/08 - Just wanted to advise that we are dealing with the usual issues of getting our models across the 'big pond', we are hopeful that all will be resolved very soon! For those of you that forwarded checks or credit card information for your final payments, we just started processing those payments in the last two weeks so it should show up on your next statements. We have had a number of contacts from customers concerned that their payments had been lost since they had not been processed, all is well at least for all situations that we are aware of. A further update should be forthcoming shortly.
3/26/08 - Just a brief update to advise that the G22b's are headed toward our shop from Korea and should arrive stateside soon. If customs cooperates we should be starting to deliver the models to customers in the next two to three weeks. We will advise further as we gain a better feel for where 'things' stand.
2/07/08 - Just a brief update to advise that the final notices for the G22b have gone out. If you have not received your reservation final notice in the next few days, please let us know.
10/17/07 - The G22b's are headed for our shop and the final notices are hitting the mail as of this writing. The production quality is the best I have ever seen so the wait has been well worth while. We will be updating with more detail as soon as possible, but 'things' are a bit frantic at this point with all of the models we have to ship. Although we plan very carefully for scheduling purposes it never seems to work out as planned, but usually by the time we get the models we are extremely happy to have them! More soon so check back regularly.
9/20/07 - Time for a long overdue update, the G22b's are done and ready for shipment as soon as the final inspection is completed, that will happen in the next week. Final notices will be going out to reservation holders in the next few days. A further update will be posted on the weekend.
6/25/07 - The photos shown below are advance 'shots' of the samples that are on the way to our shop, upon arrival complete portfolios will be completed and posted to this project site. The top image is of an early version G22b with a load of HB1a containers. The lower image is of a later version model with a load of DB4a containers. You will notice that each container is individually numbered and each has it's own serial number plate per PRR specifications. There have been no corners cut on this project, even with the container loads. Check back soon to see the complete portfolio of photos showing some of the finest detail that we have seen done in any scale.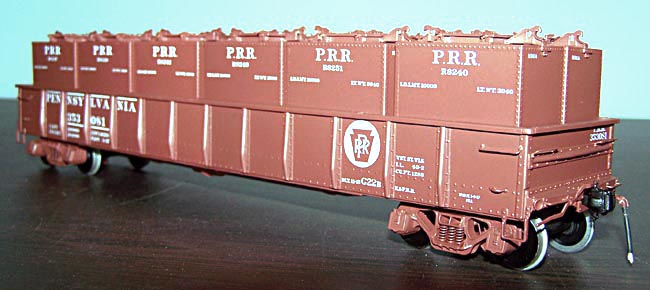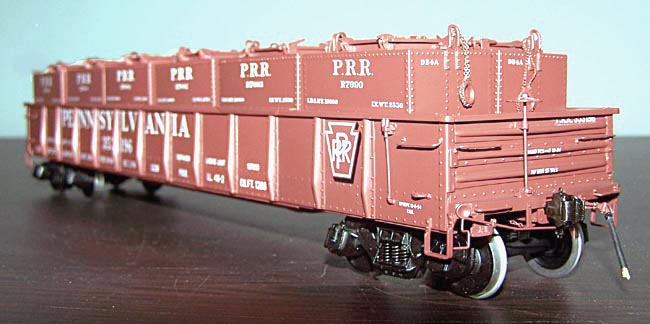 6/11/07 - latest inspection of this project is complete and like with our Norfolk & Western caboose project, Mr. Sin is doing a fantastic job to meet and set new standards for our modeling efforts. The models have all been painted at this point and the graphics are being applied as of this writing, we had actually held the project back a bit to give some breathing room between projects for customers, but we are pushing full speed ahead at this point. We will have new completed samples to photograph in the next week and we will be posting the images just as quickly as we can get them done, we are extremely anxious to let you see what has come of this effort. For those of you that have seen our previous rolling stock work, you will not believe the gains we have made in detail and overall quality, these models were honestly overwhelming to inspect. Stay tuned for the upcoming photos, you will not be disappointed! The production will be completed and shipped to our shop by the end of next month (July).
12/27/06 - reservations for our G22b have been moving along at a surprising brisk pace and they will be sold out much sooner than anticipated. The production has also been moving much faster than we expected with the carbodies headed for the paint shop immediately after the holidays. All of the soldering work has been completed and it is only the fine metal finishing being finished up at this point. Mr. Sin our rolling stock expert has been doing a fantastic job for us, this is the same operation producing our N&W cabooses and also our 'Pennsy' N5/N5b cabin cars. The G22b with containers is not an inexpensive project, but it is a great value. We have previously discussed the reasons for our pricing, but the series of photos below will speak to the issue of expense much better than any words we can offer.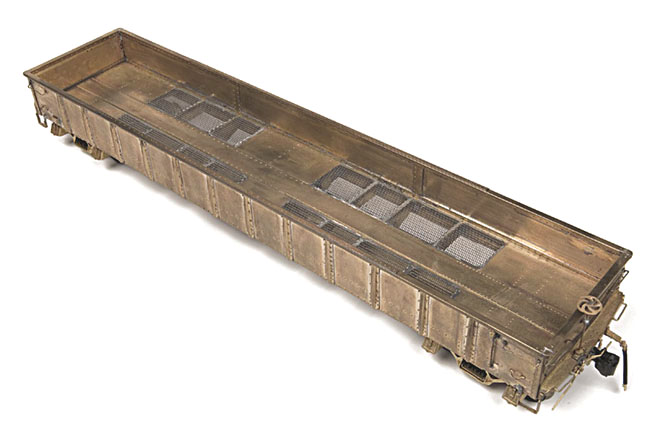 The first image is of our first sample of the G22b with the expanded metal flooring which was a feature of the later versions. This feature adds a new dimension to the detailing of our basic G22b.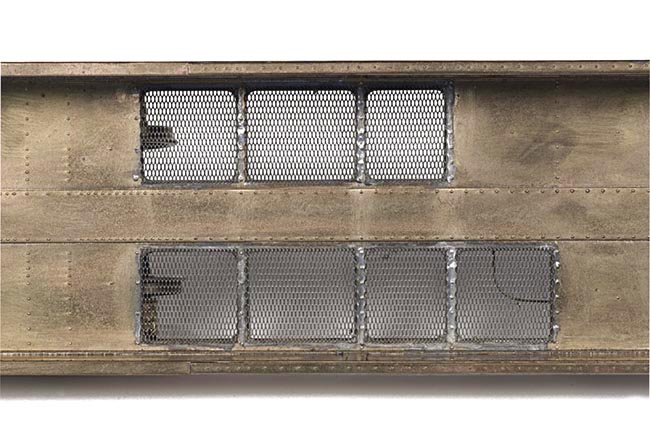 In the close up you can see the prototypically correct shape of the openings in the stainless steel sheeting
The image above is of one of our DB-4 'drop-bottom' containers with it's drop doors in the open position. The rivets on all of our containers are punched, not etched and the basic construction material is brass of the same quality as the G22b itself.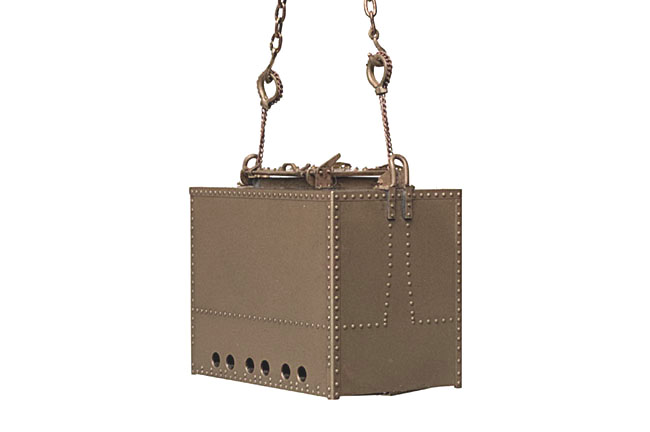 This photo shows the DB-4 with the drop doors closed, they are controlled by the lifting 'eyes' that the lifting hooks have engaged. This container required two hoists in service, one to do the lifting of the container and a second to control the drop door chains. The holes along the bottom edge were for venting of excess 'dry' goods.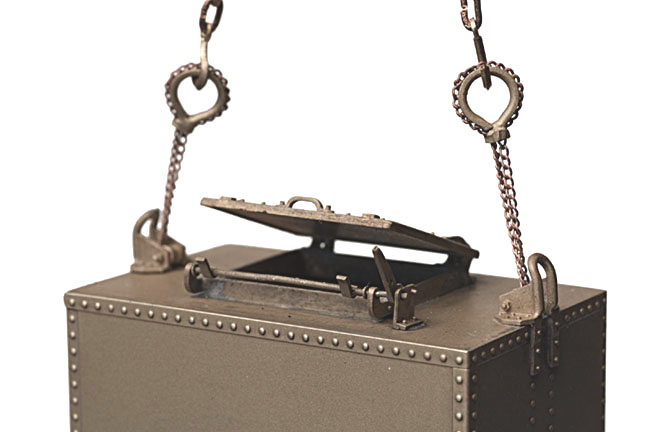 In this close up of the top of the DB-4 you have a better view of the drop door control chains and also the functional locking mechanism for the main loading hatch. Also notice the edge detail of the container body, it is all built from the original PRR tracings.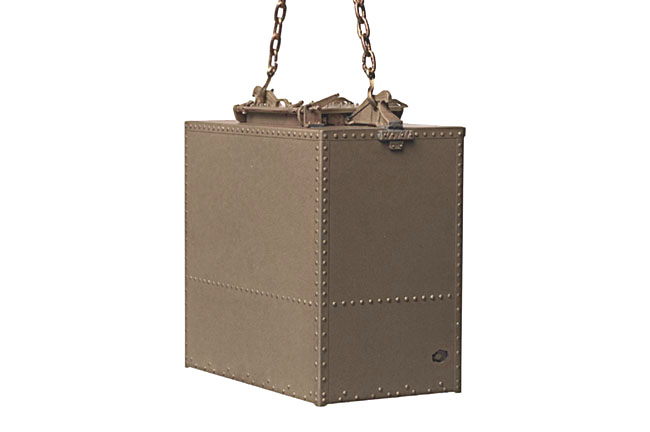 This is a photo of one of our HB-1 'hopper-bottom' containers suspended from an overhead lifting chain. Notice the small hole in the lower right corner of the container body.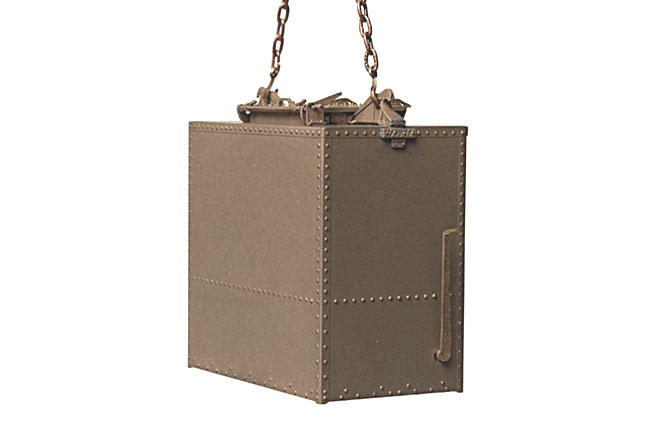 The hole seen in the photo above accommodates the handle that operates the hopper doors on the bottom side of the container, this photo shows the handle engaged and ready to operate the doors.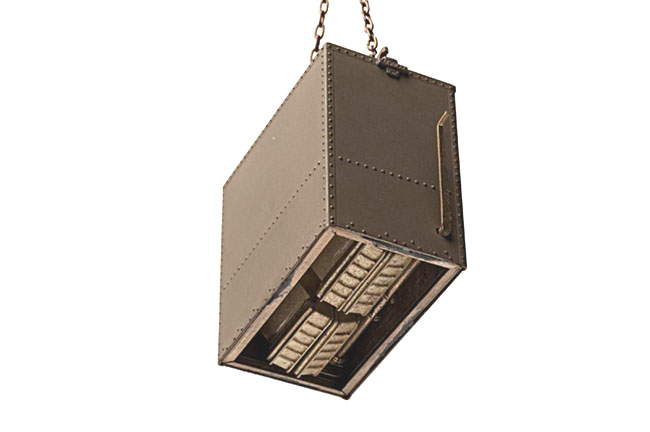 In this view you can see the hopper doors in the closed position. Also notice the inner framework detail of the HB-1 container body. Again the construction is all brass with punched rivets.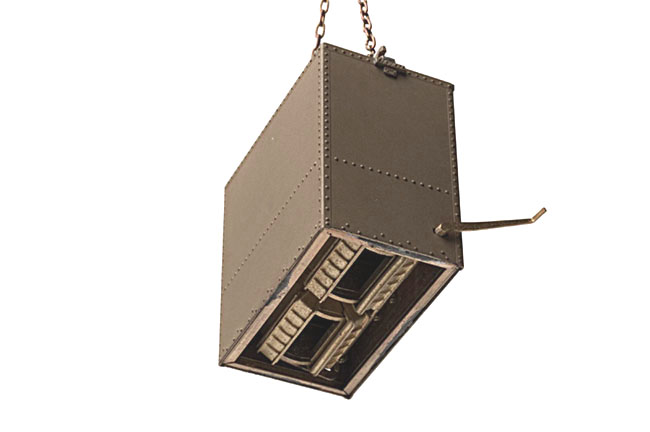 In this photo you can see that the operating handle had been moved and the hopper doors are now in the open position. There are access holes on both ends of the container for the operating handle and there are two handles per car supplied.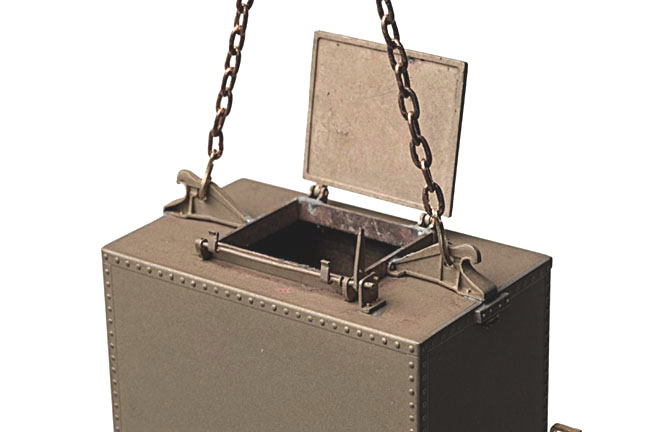 A close up view of the top of the HB-1 container shows the functional locking mechanism for the loading hatch and also a better view of some of the construction detail.
11/19/06 - The project brochures and order forms have been mailed to all existing customers as of this date. The project information will be mailed to all others that have expressed an interest in one weeks time, as always we are giving the initial preference to existing customers which is only fair. The production is well underway with nearly all of the soldering complete and all 2,400 containers have been assembled. The wait for the delivery of this project will be minimal so please get your reservations in as quickly as possible to avoid missing out on this highly desirable and sought after project.
10/16/06 - Shown below is a sample of the 'Pennsy' 2F-F5 truck, one of the types to be used on this project. Make note of the opening journal lids, correct casting detail and the correct raised lettering on the truck side frame. The trucks shown in the sample model photos are not the correct type of trucks. Our G22b project continues to move forward as we have worked through a number of issues not the least of which was how detailed to make the containers that are included with our G22b. Ultimately we have decided to make the containers as prototypically correct as the gondola itself. All of the rivet detail on the HB4 and DB1 style containers is punched, not etched. All of the opening hatches will function with their locking mechanisms and the 'drop-doors' and 'hopper-doors' will function in a prototypical manner. It was felt that there was no acceptable reason to compromise any aspect of this project, it will be a totally unique offering that will most likely never be duplicated. The versions and variations have been set, the brochures are being printed and they will be mailed to all of our existing customers in the very near term. The models are already in production and will be completed by the end of this year. New photos of the latest samples will be posted soon, including detail photos of the two container styles. Check back regularly as our updates should be posted on a more frequent basis.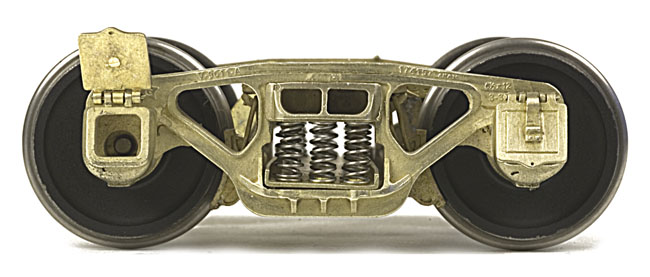 4/07/06 - We have had a flurry of activity on this project and it is very welcome. We have posted photos of an early sample for this project including the first of two container types. The reservation information will be going out once the final versions and variations have been decided, hopefully within the next 2-3 weeks. More information will be posted shortly.
10/04/04 - Just a brief update for the moment to let those interested know that the reservation process for this project will be starting shortly. Anyone that has already purchased one of our models will automatically receive the reservation information, if you are interested and have not made a purchase, please make us aware of your interest and we'll make sure you receive the information at the appropriate time.
8/04/04 - Our G22b gondola project is again moving forward, our new builder that is producing our PRR N5c cabin car is also developing this project. The design of the G22b will be finalized this month and the sample model has already been started with components that have been approved for the build. The final production will advance as soon as our N5c project is completed later in October. Generally speaking, it is becoming ever more difficult to have rolling stock produced in Korea and still keep it affordable. Builders for the most part are not interesting in doing rolling stock projects because the profit margins are not at all attractive., it's even more difficult trying to complete high-end products that require a high level of skill to do justice to the effort. Hopefully our new dedicated arrangement will alleviate some of these issues, but careful planning and execution will be required to make it work long term. Our quantities will continue to be very limited and we hope to be able to produce enough to satisfy our locomotive clients that are looking for complimentary models. Check back frequently as the progress on this project should be accelerating quickly from this point forward.
6/04/03 - The subject of producing and offering high-quality brass rolling stock is a difficult one, with all the producers that are currently involved and the small size of the O scale market, it can be a scary one as well. There is a wide selection of rolling stock to choose from, everything from plastic and Chinese imports to the finest offerings of Keystone Model Works. Competition is keen to say the least. Pricing is certainly important, but there is no way for a finely crafted Korean model that is thoroughly researched and executed to compete with the typical Chinese import. We are relying on the notion that there is a distinct group of modelers that are interested rolling stock that is as well conceived and executed as the best locomotives and are willing to pay just a little more as a result.
Our G22 with containers is undoubtedly an expensive project, but we feel that we have been able to bring the price down to a point that will be acceptable to the serious modeler. In the next mail update that is being prepared now, we'll present the details of this project including pricing, we'll certainly be interested in your feedback. The question of importance is: what is the value of a piece of rolling stock that is fully researched, well executed, fully detailed, complete with the finest trucks, correctly painted, and accurately decorated? A brief side-note, there has been interest expressed in unpainted units for those that want to do unique weathered paint schemes on their cars, we can accommodate these requests if the cars are ordered early on, we will not do this on spec as the vast majority of customers want their cars complete and ready to operate.
Stay tuned for more detail in the coming days!
2/03/03 - The design process for our G22 has been completed and the first sample is under way at this point. As soon as our pricing is firmed up we will begin the reservation process, stay tuned for the details.