Availability: This project is sold out, please inquire directly for models that may be available from original owners.
Original Price: $4,000US plus $650US for the optional auxiliary tender
Versions Offered: 5
Production Quantity: 100
9/27/07 - Regarding the Y6b we had for sale, we actually had three models available and they all sold immediately, this speaks to the popularity of this prototype and the desire to won one of our Y6b's.
7/12/07 - We want to advise that we have a Y6b model available for sale, if this is of interest to you, please contact us directly for the details.
2/21/02 - The preparation and delivery process continues and as usual, not as fast as we would like. A special thank you to all of those customers that have exercised great patience during this process. Each and every model has to undergo another thorough visual inspection, detailing and finally an extensive running test. To deliver the models without this final effort would not do justice to the overall project, we certainly know that the new owners are anxious, but we also know that the models have to be 'right' in order for our customers to be happy in the end. During this time we tend to stay away from the phone as much as possible in order to keep the process moving as quickly as possible. We will respond to all phone messages and E-mails as quickly as possible.
1/30/02 - Just two bits of information for this update; we want to confirm that the shipping of the Y6b models has started and will progress in the usual fashion with models going out in the order that the final payments were received. We have a limited number of extra Auxiliary Tenders available for purchase separately, the price is $650, if you are interested get in touch soon as they will not last long!
1/25/02 - After two weeks of "it will clear tomorrow", the Y6b models have finally cleared U.S. Customs and a release order has been issued!! The models will be moved from Detroit Metro airport tomorrow morning and the shipping will begin on Monday. Our sincere thanks to those of you that have been so patient through this process, I believe that once you see the finished product that you will feel the wait was worth it.
1/12/02 - The rescue mission is complete and the Y6b's are moving toward Detroit..............finally! The security issue previously mentioned turned out to be a pretty predictable matter of 'greasing the skids' with additional money to raise the priority of our shipment. The airfreight space like so many other things has been affected by the 9-11 situation and unfortunately there are those in the shipping business ready, willing and able to take advantage of the situation, especially when it involves us little guys. If you want the best shipment handling it comes with a price. The stop in Tokyo was combined with another visit to Korea to further develop the upcoming projects, there will be more posted on the relevant project update pages. One additional benefit of the trip was the fact that I was able to hand carry two production Y6b's back with me and a photo of one of them appears below.
I know that everyone has been very anxious to see the finished model so the two models are being extensively photographed and the images will be posted during the course of this weekend.

1/4/02 - We are a little frustrated regarding the delivery of the Y's, they are currently in Tokyo held up for security reasons, issues which we have not faced previously. An immediate trip is planned to get things moving and we'll update shortly after the shipment is on the move again, it should not be long now.
12/28/01 - We are expecting the arrival of the completed Y6b models in the very near term, things have been slowed down due to the holidays and added airline security, available air cargo space has also been cut so we had to scramble to arrange space. Many people have been anxious to see photos of the finished models and our usual practice would have allowed us to have a full series of detail photos posted by now. With the added security and hassles of hand carrying or even checking electronic equipment aboard airplanes these days, the last couple of trips to Korea have been made without taking the usual photographic equipment that in the past has allowed us to show the finished models long before they arrived in country. We will produce a detailed series of photos as soon as the models arrive and will post them to the Y6b site just a quickly as possible. We will continue to update throughout the delivery process.
12/17/01 - We have finally reached the end of this project and the delivery process will commence as soon as the models arrive from Korea. The finished product is one that we are extremely proud of and it certainly goes a long way towards justifying all of our effort to get it right. If you have a confirmed reservation, you should have received your final invoice by now and the models are being queued for shipping based on the arrival of final payments. If you have not received your notice, please let us know as soon as possible so we can a replacement to you. We have heard from a number of customers, particularly on the east coast that the delivery has been very slow which I guess should be expected at this point. We will continue to update regarding the delivery process, if you are waiting for a model, please be patient as we are almost there and we do not want to destroy what has been created through haste and mishandling.
In the coming days, there will be a detailed wrap up on this project highlighting some of our more interesting experiences and relating some of our lessons learned.
11/20/01 - As I prepare for the final trip to Korea for this project, it's final inspection time, there are so many things to be excited about with this project it is difficult to focus on what is the most exciting. Certainly in the running is the sound/control system developed especially for our Y6b. Let me provide a brief rundown on exactly what it is and will do.
First of all and most importantly, our Y6b will run powered by any standard power supply of appropriate quality, there are no special requirements beyond what any precision model would require. The system is powered by on board batteries that are recharged from track power during normal operation. All functions that should be directional, whether lighting or mechanical, function automatically, but also have manual overrides to accommodate user preferences.. The headlight, reverse lights, cab lights, marker lights and reverse-gear mechanism all operate based on motion or direction. The operator has full control over the following functions: headlight, tender reverse light, auxiliary tender reverse light, cab lights, marker lights, bell, whistle, cylinder blow out, simple or compound operation, reverse-gear position and remote turn-off of all sounds. The sound portion of the system utilizes three amplifiers with three speakers, each audio channel has a separate volume, bass and treble control which are accessible through the tender cistern hatch. The actual Y6b sounds that are digitally reproduced have been auditioned by the roughest critics and have been given two thumbs up!
A side note about airline security, the sound units were hand carried to Korea on the last trip and boy was that fun. The box containing the units was checked as baggage, but before it was accepted it had to be x-rayed once, twice, three times and then opened for visual inspection. No big deal, I was glad they were being so diligent until they told me that each and every static proof bag had to be opened, since there are three circuit boards for each complete unit, that meant over three hundred bags had to be opened before the package would be accepted. There was no choice so we proceeded with some fear about static electricity blowing out some microprocessors.
Many people wonder and some even critically question why it takes us sooo long to develop and produce one of our models, it's a difficult 'thing' to explain without being able to have the questioner experience the trials and pains, both physical and mental, of the process. Maybe the best thing that I can do is explain in brief detail what it has taken to develop just one aspect of the model that would initially seem to be pretty cut and dried. Lets look at what it has taken just to get to the point of being able to apply some graphics to the model, no big deal right, several companies offer decals that could be used or copied, why reinvent the wheel. At the outset, our original guiding light, which soon faded, told us that we could use a specific brand name of lettering, but oh by the way the spacing of the letters is not correct. Well half the battle is won, all we have to do is re space the letters and we're in business. Come to find out, not only was the spacing wrong, the letters were not the correct size (too small) and oh ya, several of the letters had the wrong shapes or accents as did some of the numbers used for the road numbers. OK, we can deal with this, we have the original Norfolk & Western arrangement drawings for the lettering so we can recreate what we need from scratch which would be more work, but we'd have it right. After recreating in scale the lettering that we needed, it was time to check the spacing and placement in specific locations on the model. In comparing our model to the hundreds of prototype photos used for the project, it became readily apparent that something was wrong...........again! The original drawings from the road did not agree with the majority of photos, some of the letters were slightly different and the placement was different than suggested by the authentic drawings. Majority rules, so lets redo things again based on the photos which is even more difficult, but ultimately the only way to assure that the finished product is correct in this case. Now take this situation and multiply it by the hundreds of like situations faced in the development of this project and you'll begin to have an idea of why it takes so long to try and do it right. Is it worth it in the end, sometimes those of us involved in the process wonder, but it's the only way we know.
Come back soon, we'll be posting another installment over the holiday weekend.
9/30/01 - The photos of the latest sample model are now available for viewing, they should give you a good idea of the effort that has gone into this project and the quality of model that we are going to deliver. The image below is just a taste of what is to come.
We are all pushing very hard to wrap this project up by the end of October and right now it looks like we'll be able to do it. There will be further updates during the month to keep all of our customers up to date so that we can all plan for the delivery.
8/30/01 - The updated statements for all Y6b customers are in the mail as of today, we will hopefully have better luck at having them delivered then our GLe confimation notices!!
8/24/01 - Just a quick note to those that have supported the incremental payment on this project; there is a new statement being mailed reflecting this payment. Our sincere thanks goes out for the support! Additional news will follow shortly.
8/3/01 - Those of you that made it to the National O Scale Convention know that we were waiting with great anticipation at the show for the arrival of our latest Y6b sample that was being shipped to the show and most of you know that it never arrived due to circumstances beyond our control. The final chapter of this saga is not a happy one; the model finally arrived at our shop after being diverted since I was leaving the original intended delivery location and I found that the model had been severely damaged due the efforts of the customs officials and the carrier. This will not impact the progress of the project, but it will keep me from posting images to this site that everyone had been waiting to see. The model has been returned to Korea for immediate repair and will come back once again to be photographed for the web site and our mail update. Needless to say, I am extremely disappointed and frustrated with this situation, thankfully this has not been a persistent problem as we have only experienced delays in the past. We will post the new photos just as soon as they are available.
The response to the special mailing for those with existing reservations has been extremely positive, so much so, there will be a change made to our reservation approach in the future. I will provide more detail on these changes in the very near future. I can promise those that have responded that they will not be disappointed with the Y6b that they receive as a result of their further commitment, this model will be the new 'benchmark' for all scales.
7/22/01 - Another trip to Korea to inspect the progress on the Y6b project is complete and I was totally overwhelmed by what I reviewed! Picture below is the preproduction chassis for the locomotive being assembled after adjustments to the reverse-gear system and suspension were completed.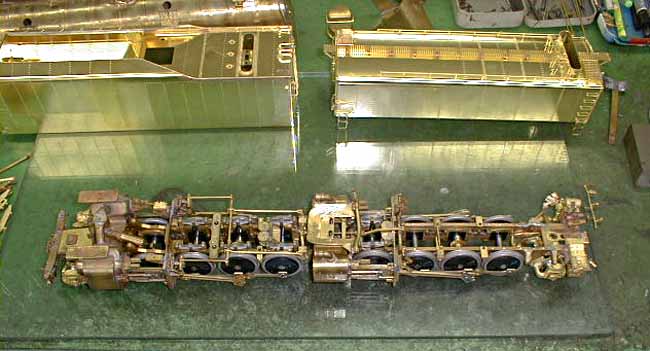 The reverse-gear mechanism is completely prototypical in design, many that are familiar with the Y6b felt at the outset that it would be impossible to model these features in miniature due to the complexity, but it is complete and it works. Powered by a digitally controlled motor, the operator will be able to position the reverse-gear exactly where desired during operation without touching the model!
The suspension system on the Y6b is among the most complex used on a mainline locomotive, again all of the components have been reproduced in miniature and the suspension is complete with fabricated leaf springs throughout. The front engine drivers are all equalized with the pilot truck and they are also cross equalized for prototypical operation. The rear engine drivers are fully equalized as well and tied into the trailing truck suspension. The rear engine suspension is also cross equalized to make sure that the locomotive rides level on the rail heads! Keep in mind that the front and rear engines will be independently powered and the drives are fully concealed.
We are hoping to have the completed preproduction model at the O Scale Nationals in Stamford, once we have the model in hand, we'll do a complete review of the features and design details. The model has gone far beyond the original design intent and has even surpassed our 'Late' Hudson project in terms of features. Needless to say we are thrilled with what we have been able to accomplish.
7/2/01 - The development of our Y6b is complete and the concentration is now on the final production. As a result of our extended research effort, the development of features for this project has pushed far beyond or original expectations. As with all of our projects, the production Y6b will offer more than we promised at the outset, the difference this time is the extent to which that is true. We currently have a customer update letter going out to all of our Y6b customers explaining in more detail exactly where we stand, once those with reservations have been briefed we'll post the more detailed information on our site and in particular on this page. We will be talking more about this project at the upcoming shows in St. Louis and Stamford, if you have the opportunity to attend either of these shows we'd be happy to spend some time with you explaining where our research and development have taken us.
5/25/01 - In recent weeks we have been heavily involved in continuing research and development for our Y6b project and most recently have been overwhelmed with a flood of new material. There is no doubt at this point that our Y6b will be our finest project yet and will represent a high-water mark in terms railroad modeling. A special thank you needs to be extended to several people for their recent efforts in helping with our research; Mr. Jim Gillum, President of the Norfolk & Western Historical Society and one of his faithful volunteers, Mr. Charlie Schlotthober made it possible for us to visit the society archives in order to evaluate the material included in a very large acquisition that the society recently made and it relevance to our project. Also present at the 'outing' were good friends Mr. Jim Williams and Mr. Jack McGarry, they went out of their way to be there to help in wading through thousands of drawings to further our understanding of the development and history of the 'Y' class locomotives. This very intensive two days at the end of April proved to be extremely valuable, not only for the new material gathered but also for the lessons learned by those in attendance. I have spoken frequently about the frustration associated with interpreting historical data, but the Roanoke trip helped to illustrate exactly the sort of problems that are routinely faced; situations where you have graphic evidence of a particular design practice and yet there is no formal design information to support it and on the other hand you have complete design material for variations in construction that absolutely never existed! These are the types of situations that lead to many of the controversies associated with particular models, seldom is there the effort to fully explore the true meaning of the data available. Because Jim Gillum extended himself and made available the resources of the society, we have a much better understanding of the prototype that we are currently modeling. In consideration of that fact Kohs & Company will pay for a new or renewal membership in the Norfolk & Western Historical Society for each of our Y6b customers, these arrangements will be finalized once our project has been delivered. For those not purchasing one of our Y6b's, we have enclosed a membership application and I strongly urge you to become a supporter!
As the historical research has progressed to new levels, so too have the functional considerations. We are committed to a new level of performance for an articulated locomotive, not only are we using two independent drive systems for the front and rear engines, we are pushing the sound and control features to new levels. Dallee Electronics remains instrumental in the development of this project and the end result will be the most advanced sound and control system ever deployed in a scale model. The highlight of this new installation will be the use of multiple speakers and multiple sound amplifiers that will insure that the prototypically correct digital sound will be heard effectively.
The net result of our continued efforts on the Y6b research and development is that we will once again deliver far more in our final product than we had promised at the outset. As of this writing we are incorporating the latest information into our pre-production model to make certain that the final product is exactly what we expect. At the same time we are doing everything possible to try and hold to the delivery schedule, but we will make day to day determinations of where we stand in that regard, the integrity of the final product is what counts in the end.
4/11/01 - Just when we thought we had all of the reference material available, we were informed by the Norfolk & Western Historical Society that they had acquired a large new collection of drawings! We have already made arrangements to go to Roanoke, Virginia and attempt to ascertain if there is additional information that we can use, we do take our research efforts very seriously. Because of the society's willingness to try and help on this project and our future N&W efforts we anticipate purchasing society memberships or renewals for all of our Y6b customers, just an effort on our part to support what they are doing. More details will be made available after our visit to the archives. A big thank you in advance to Mr. Jim Gillum, President of the Norfolk & Western Historical Society for his efforts, we unfortunately do not always receive this type of support for our projects.
We will be posting new part photos for this project starting later tonight and this will be an ongoing effort trying to keep everyone, particularly our Y6b customers, informed about where we are in the production of this project.
4/1/01 - Our project development is progressing smoothly and we continue to find and develop new information that will greatly contribute to the fidelity of our finished models. We continue to expand the use of our electronic capabilities for both design and communication, this in large part will help to keep us on schedule for a mid-summer delivery, there are always the 'unforeseeables', but so far so good! In the near future we'll start posting images of new components as their redesign is finished, this should provide some insight into the effort that goes into the final product. Stay tuned for more news.
2/27/01 - Nine reservation slots left and we're thrilled, to nearly sell out our production in only seven weeks we feel is a real accomplishment and to do it without the cushion of dealer orders makes it even more significant. One again, our sincere thanks to those that continue to support our modeling efforts.
With more shows complete and lots of conversation about this project, some modelers seem confused about the role our samples models play in developing and selling our projects, we'll try to clarify what the process is in the near future. On one hand our process allows the 'unknowing' or malicious to take cheap shots at our early samples, but on the other hand the process that we have adopted allows those that have a true interest in what we are developing to get involved and to watch the progress as we move toward the delivery of our final production models. It is important for those of you with a sincere interest to fully understand our approach and that will be the focus of our efforts in the coming days.
Our Y6b development continues and so does our effort to make this our most significant offering yet. Each new project must take advantage of the lessons learned in our previous projects.
2/18/01 - Even though the production is officially started, the development does not stop. During our travels in the last couple of weeks additional information has surfaced regarding details of construction both on the Y6b loco and 22-I tender. After repeated coverage of our reference materials, two glaring errors surfaced which would have been accepted as being correct, but have now been determined to be long-time misconceptions requiring the modification of our final build plan. We are probably not done yet, in spite of our builder's wishes!! I have to again thank those continuing to push with me to make this the finest model possible, you know who you are and everyone else interested in this project will in the end. This continues to be a team effort of individuals possessing extensive knowledge of the prototype, but that are not so 'smart' that they are afraid to learn in the process, my hat is off to you.
I would just like to clarify one fact; in spite of the rave reviews that our sample model has received at the latest shows, it is in fact only about 65% complete and there are many mistakes to correct and changes to make. If you thought it looked good at the shows, just wait until we are finished!!
The reservation process is winding down at this point and as of this writing, we have only thirteen reservation slots left. If we made a mistake and you are someone that requested reservation materials and have not received them, please let us know as soon as possible so we can preserve a slot for you. Once the reservations close there will not be any more models available regardless of circumstances, so please hurry if you are affected.
1/28/01 - Just a brief update to let those concerned with Y6b reservations know that the second wave mailing has gone out to all that have expressed interest in this project and are not currently customers of ours. If you are seriously interested, an early response is suggested to ensure a reservation.
1/25/01 - For those of you looking to become new customers beginning with this project, the offering information will be mailed to you this weekend, if we are aware of your interest. If you are an existing customer, your preferential ordering period is almost over and the reservations have been coming in at a steady pace. Whether you are an existing or potential new customer, from this point forward you will need to respond in the short term in order to be successful in obtaining a reservation, the project is well over half reserved as of the first of this week and we are heading out to several shows beginning next weekend.
A production note; the final production for this project begins officially on the 10th of February so we are on track for an early Summer delivery. Once the production begins, those holding reservations will start to receive direct mail updates regarding the progress of this project.
1/15/01 - The reservation process for existing customers is well underway and the orders are pouring in...............thank goodness! This comes as no surprise, the demand from the very beginning has been extreme for this project and that has kept us very busy in terms of correspondence related to reservations and production information.
The final corrections have just been completed and the production parts are now in process. The assistance offered by many and a couple of individuals in particular has been greatly appreciated. When you get down to the final evaluation of a sample model prior to production it's a very nerve racking time, there is always the fear that you're going to miss something of extreme importance and there are those that live for the opportunity to point out those oversights! We have received numerous comments from those that have seen the sample model or photos of it that it looks outstanding, it does look good, but in the final evaluation we came up with just over 200 changes, corrections or additions to what has already been accomplished. I'm sure that we're not done yet as the correction process doesn't end until the final hours of the production process, that is due to the extreme dedication of my builder that often times would like to kill me!
One point that I would like to make regarding sample models is that they are exactly that, a tool used to pursue the final goal and they often times are not totally representative of what the final product will be like, particularly in terms of quality. Castings for a project for example, are an evolving process, those used early on are quick examples used to prove out dimensional information and basic design. As the project evolves the material used for casting and the models themselves change in an effort to perfect the final production parts. The tooling for a particular part may change several times before being finalized so it does not make sense to perfect the quality until the design is resolved, just a little insight into how we operate and attempt to budget our time.
Those of you that are not currently customers and are waiting to reserve a Y6b, the mailing for you will be going out in about ten days, we all thank you for your patience and understanding. Once you become a customer, our process will make more sense to you and I believe that you'll appreciate what we are trying to do for those that have been with us from early on.
12/21/00 - The offering for this project is finally in the mail to our existing customers! We understand that many of you have been very anxious, but it is very important for us to have everything well planned out at the outset of a project so that we all know where we're headed together. As many of you know, there are always enough pitfalls during the progress of the project production that we do not need to start off on uncertain footing. Your patience is greatly appreciated. For potential new customers, your offering packages will go out about this time in January.
With each and every project we try to push the modeling standards a little further and the Y6b project will not be an exception. We are working with our builder to develop new construction techniques that will lend a whole new feel of authenticity to the end product. These techniques have not been attempted to our knowledge in any scale short of 1-1/2" scale and it require serious engineering to attempt. We are obviously being a little protective right now as some competitors choose to copy rather than innovate, as we get a little further along we'll be very anxious to share in detail what we are doing.
If you haven't gathered by now, our pursuit is not to just make expensive toy trains, it's to do it better than anybody else and innovate in the process. Would I rather be breaking new ground in the field of Neurosurgery or the like, of course, but by first hand account I understand that our type of product contributes to the basic sanity of those who can not survive on the status quo of life. I'm not sure who to attribute the following statement to other than my Grandfather who related it to me about forty years ago, but it really sums up what many of us with common pursuits feel, "If you give up your dreams you die". I'm sure that many of you have heard some variation of that phrase, the trick is to live it!
10/28/00 - After a solid year's worth of effort on this project, last weekend was spent showing our latest sample of this project and we did so very proudly. All of the new information that is mentioned below has been incorporated into the latest sample, although the sample is not complete. We'll be posting a complete set of images over the course of the next two days and that should give you a good idea of the quality of design that our efforts have lead to so far. The images will speak more loudly than our words about what has been accomplished, so we'll leave that to you to judge. We are at a point now in our development where we're comfortable enough to move forward with our reservation process. We understand that everybody interested in our Y6b has been very anxious, but we always try to take the approach that we are firm in what we are offering before we offer it!! It's all to often in this hobby that disappointment hits customers due to changes made or features eliminated after the purchase decision has been made, in good conscious we can not operate in that manner . On the contrary, just as with our latest project coming up for delivery, the NYC 'Late' Hudson, we try to deliver more than promised and we do it at our expense not the expense of the customer. There are always enough unknowns involved in brass projects even with the best of planning, so to start off on less than a firm foundation is, to put it bluntly, stupid. As you follow along on our projects you will come to understand that we actually mean what we say about wanting the most accurate and highest quality products that we can produce, decisions are always made on a 'what is best for the project' basis and never based on profit motive, much to the frustration of our banker.
As we post the new images of the latest sample we will highlight many of the features and details incorporated in this project, we'll try to make it easy for you to compare to the prototype and we'll hopefully be able to describe version differences so that if you are interested in purchasing one of our Y6b's you will have the necessary information to choose a version..................the best and easiest thing to do when ordering is to order one of each, then there is never disappointment! If you have questions at any point, do not hesitate to get in touch.
The offering material is being prepared now with the latest photos, the original batch from the first sample is being trashed, and all should hit the mail slot early this coming week. We appreciate the patience of those that have been waiting and we hope that you'll feel that the wait has been worth it.
9/17/00 - More exciting news regarding the Y6b development, the arrival of approximately 130 negatives exposed late in the steam era, the subject being Y6b #2174. The individual that originally took the photos has kindly offered them for use in developing our Y6b, this type of original material has been all too uncommon and this new material will go a long way to ensure that we get the details correct. Sometimes things do go right!!
9/13/00 - The offering mailing for this project is imminent, things are finally under control and we are moving forward on getting the final information into your hands. At the same time, we just returned from another research trip to do some more measuring and photography and the results this time will certainly contribute to an outstanding end result.
During this most recent trip, seven hours were spent literally crawling underneath a locomotive to measure and photograph the immense amount detail for inclusion in our model. We shot approximately 140 conventional photographs and 150 digital images and what we were able to capture underneath was better than we ever imagined. Using a new Nikon 17-35mm zoom lens we were able focus on complete assemblies and record all of the detail to go along with our measurements. Although we have a vast collection of original blueprints for the prototype, they just do not convey the true character of the locomotive like actual photographs do. Many of you are thinking that what locomotive did we photograph......................there aren't any Y6b's still in existence, we were back at the National Transportation Museum in St. Louis to 'assault' Y6a #2156. Although there are a number of major differences between Y6a's and Y6b's, they do share a number of common components and systems and if you know the differences between the two prototypes the Y6a data is very useful. It's always very exciting when we make the extra effort and it pays off in great results. Below is a sample of the bottom-side images captured, this will give you an idea of what close quarters we had to operate in.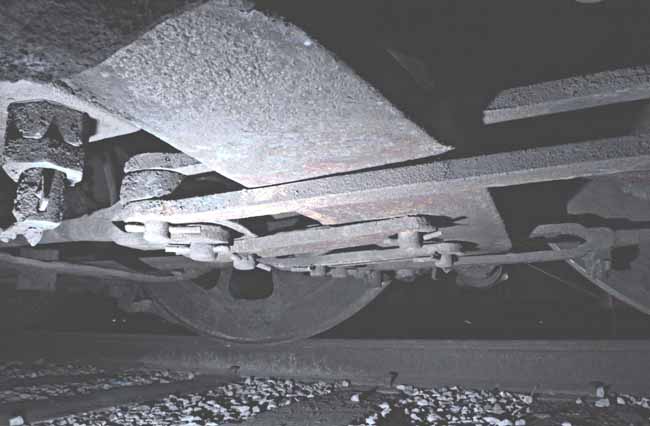 We'll be sharing more of this information as time goes on so stay tuned!
8/25/00 - Just a brief update to let you know that we are just waiting for the photo printing to be completed so that we can get the offering mailing on it's way first of all to our customers and then to everyone that has expressed interest in this project. Assembling all of the material necessary to make an offering is very time consuming and the photo work is particularly important as it is the photos that do the selling early on. we will have an announcement on this page as soon as the packs start hitting the mail slot! Many thanks for your patience.
8/16/00 - The sample model images have been posted to the site, the three units of the model are not complete, but you will get a good idea of the magnitude of this project. Our development is well on the way to completion and we are very excited about how all of the information has finally come together. We will add new images as they become available and we have a number of additional ones still to add at this point. Check back frequently for the latest information.
8/14/00 - Shown here is a photo of a collection of Y6b parts taken at our builder's facility in Korea. We have been refining our development process trying to eliminate wasted effort through slowing the construction of the first sample model and spending the extra time weeding out mistakes before they are modeled in the first prototype, we are trying everything to help keep the ultimate cost of our models as low as possible.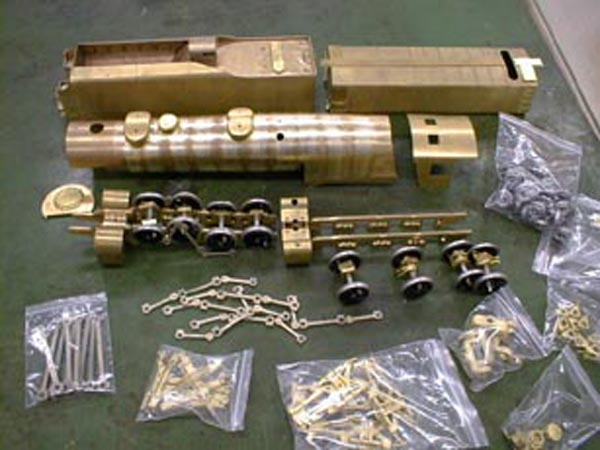 As previously mentioned, we displayed the first sample of the Y6b at the NMRA show in San Jose, California. This was an exciting opportunity for us and the response from those that viewed the sample was fantastic even though the sample was not complete. We are working on getting photos of that sample processed and placed on the site, that should happen later this day.
The reservation packs will be going out to our existing customers late this week, we held off as long as possible, but we need to start producing production quantities of certain parts and that will be dependent on the number of each version we need to produce..................that is likewise dependent upon our reservations. As previously explained, the reservation information will go out to potential new customers approximately two weeks after it goes to our existing customers
Check back at the Y6b home page soon to see the photos of the first sample.
7/27/00 - Just a quick update on the Y6b, we are very excited about the fact that our sample model will be delivered to the NMRA National Train Show in San Jose, California which starts on August 4th. The sample will be on display in our booth #311, it will not be complete, but should be very representative of where we are headed with this project. Immediately after the show the sample will be photographed and the images will be posted on this site. Many of our potential customers have been disappointed that we have not been sharing photos of the development up to this point, we have explained why this has been done, but we are near a point where we will be more comfortable in letting everyone see what is being done. This model will be a tribute to the craftsmen and women at S. J. Models!
Early on we had laid out a plan for the versions of this prototype that would be offered, but as our development has progressed there has been a slight change in our thinking, ultimately there will be more variations offered, although a couple of them will be built in very limited quantities. There will be more information offered on this once the decisions are final.
7/18/00 - Our development on this project continues and the sample model is approximately 50% completed. The further the development continues, the more exciting the project becomes from our point of view, it's always fun when all the research takes tangible shape. In our last update we mentioned that we were in the process of evaluating motors and we are now at the point where we have chosen the units to be used in our sample, they will be Swiss coreless units. When it comes to motors, it's never a difficult choice which are the best, it's more a question of justifying the added cost of using the Swiss motors for a model train project, they are approximately three times more expensive than Pittman motors. In the very near future we will begin to share some images of our development, up to now we have been reluctant to do so because of the competitive nature of this business.
6/19/00 - Since our last posting on this page we have made serious and significant progress with the development of this project and we have also added new features to the planning. I can honestly say that this is the most difficult project that I have ever worked on including all of the gauge one projects that were done while I was still at Fine Art Models.
Leading up to this project, it was said by a seemingly knowledgeable people that 'everything' necessary to successfully model this prototype was readily available and there really shouldn't be any problem in researching the development, that couldn't be further from the truth! I can honestly tell you that we are very comfortable with the accuracy of our design thus far, but it hasn't come easy. The material we started with came from the acknowledge experts on the N&W road and has progressed through acquiring three major N&W related collections (which will also lend to future N&W projects) in addition to the help offered by interested parties and friends that have been able to provide 'pieces' of the puzzle and we're not done yet. I think that I now understand why such a significant prototype in railroading history has only been modeled once previously.
Much of the difficulty in the development of this project stems from the fact that this prototype breaks all of the design rules, you can take nothing for granted in filling in the blanks as you can with so many other locomotives. Lima, Alco and even Baldwin built locomotives generally follow fairly consistent intra-company design philosophies so you can develop a 'feel' for how things are done on a given build project, not so with the N&W designed and built Y6b and perhaps that in part is what made it such a successful locomotive, it did not follow the somewhat arbitrary conventions of design. Every aspect of this project has to be thoroughly researched and developed to insure the integrity of the final product, that shall be done!
In line with our new plans to develop and offer our own NMRA compatible DCC decoders and ultimately a new control interface, we have added to our plans on this project user controlled lights. The headlight, reverse light, markers and cab lights will all be user controllable either from our usual sound control console or through the installation of our addressable DCC decoder.
Regarding the development of sound, this project will utilize the most advanced sound system ever offered. We are currently planning on the use of three microprocessors and three speakers to transmit the sound. With the additional processor capacity we will use the highest digital sampling rate ever to insure the accuracy of the sound. The type of sound that we already use being the most accurate in the hobby, will be that much better and will include the user controlled change in sound from 'simple' to 'compound' operation.
Operating characteristics being of the utmost importance, we are currently evaluating six (6) different motors for use in our twin motor installation. We are primarily concerned with maximum torque at the low end while maintaining a prototypical top speed capability, the motors must run quietly not only in the acoustic sense, but also in the electronic sense for use with DCC decoders and systems. We are looking at two U.S. manufactured motors and four Swiss built motors and cost is not much of a consideration.
On the reservation and financial side of this project, we are juggling a number of issues in regards to when we start the reservation process. We have the delivery of our 'Late' NYC Hudson pending and most all of those customers also want Y6b's so we are trying our best to spread the financial burden as best we can so that we do not arbitrarily eliminate people from being able to order. I understand that many are anxious to know if they will be able to buy and we will try to resolve this in a timely manner. If the hobby consisted of a much larger group of people it would not be quite so difficult, but we do appreciate those that have honored us with their support.
We have considerable new material to add the project information and prototype photo sections of this project site and we will do so just as quickly as possible.
5/11/00 - We are ready to begin the reservation process on this project, but we are holding off a little longer due to financial considerations. Many customers are just now recovering from taking delivery on their GG-1's and also Income Tax time, in addition we will be delivering our New York Central 'Late' Hudson project in the very near future so we are looking for an appropriate time to work the reservations for the Y6b in. If this project is of interest, please check back frequently for the latest information.
4/18/00 - Our survey efforts on this project have wound down and we have reached our decision regarding the quantity of models to be produced for this project. As we originally wanted, we will produce only 100 units and this decision was not reached as a result of a lack of interest, but after considering all of the factors that go into making a successful project. We know that in producing this quantity we will leave many people disappointed, but also feel that we will be better able to satisfy the 100 customers that do purchase our Y6b. A more in-depth explanation will be offered on our 'news' page in the next day or so. We certainly want to thank those individuals that took the time to respond to our survey and as an acknowledgement of our appreciation, those people that responded to the survey will be the first to receive the official offering and reservation material, followed by the balance of our existing customers and then the many new potential customers that have expressed an interest in purchasing a Y6b.
The reservation information for this project will go out at a point when we feel that there has been a reasonable recovery time from the ordeal of taxes and we also have to consider those that will have final payments due for their 'Late' version Hudsons later in May. Please be patient and bare with us during this process, we will try to get to the point where people will know whether they will be able to purchase a model or not just as soon as circumstances allow.
4/2/00 - We are nearing the end of our survey period for this project and I would certainly like to thank our existing customers that took the time to return the survey cards which we mailed out. The results have confirmed what we initially thought about this project and they will help us better meet the requirements of all concerned. There have been few surprises in the results other than how evenly spread the interest is in the three variations of the prototype that we are planning on producing. We anticipated that there would be a high level of interest from customers in terms of wanting to order multiple variations, this has proven to be very true.
I would like to thank those of you in the modeling community that have taken the time and made the effort to offer information for consideration in the development of this project, that is the type of input that will make this project special in the results.
If you have an interest in reserving one of our Y6b's stay tuned for the upcoming information regarding the reservation process and timing.
3/23/00 - The Y6b project was a very hot topic for us at the recently attended shows and the concern among potential new customers is at a fever pitch. We are approximately two weeks away from the end of our survey period for existing customers regarding this project and the responses so far are even stronger than anticipated. Once we are at the end of the survey we can then decided on a final quantity that will allow for some new customers without endangering the overall quality of the project. I will again mention that if you are interested in this project make certain that you are on our mailing list so that you will receive the offering information when it goes out.
At the recent shows we had a number of conversations with interested modelers about the issue of quantity versus quality and our concern regarding over-producing projects and this one in particular. I have tried to explain that there is a critical point in a production effort which relies on hand craftsmanship, there is a 'burnout' point where the quality begins to drop due to the length of time spent doing a repetitive task (basic human nature), the trick is to predetermine where that point will be and to not be greedy in going beyond it for the sake of making additional money. It is a delicate balance between doing enough to keep the model cost down and not doing too many and losing quality. From the collectors stand point, the equation is very simple, the fewer the better!
I am also very happy to relate the fact that we have found a couple of new individuals that have extremely important data to share with us about the Y6b. Once in hand we'll let you know exactly what we have.
3/10/00 - It has been a particularly busy week for this project, on top of our shipping duties with the GG-1 project, we took time to undertake an intensive research trip for the Y6b project. While we have sought the guidance of the recognized authorities on this prototype, we have still had areas of concern where we were not comfortable in accepting what was thought to be correct. Our three man team went to survey the last remaining Y6a which is the closest thing available to a Y6b, in the process we shot over 400 photographs, shot an hour of high-resolution digital video and made endless sketches, we are pretty comfortable now! Our collective opinion after spending time with the prototype is that the Y6 class of locomotives is among the most mechanically complex group of locomotives ever built. In reviewing the construction, it is very apparent that there was a wholly different design philosophy employed in developing this locomotive, the UP Big Boy and even the C&O H-8 seem simple by comparison, this seemingly is what made the prototype so uniquely successful in service. We'll be posting some of our images to give you a better idea of what we are talking about, we think that you'll find it very interesting.
3/4/00 - The survey mailing was delayed a couple of days due to our efforts to get our GG-1 shipping seriously underway after finishing our recent show tour. Please be patient the survey will be in your hands shortly!
2/26/00 - As of Monday the 28th, our survey mailing will be going out. Included in the mailing will be a post card with return postage already affixed so that our existing customers need only drop the card in the nearest mailbox to register their interest for this project. Once we know where to set our quantity limit, we will proceed with our formal reservation process for both existing and new customers.
At the last three shows that we have attended, we have shown on a very limited basis the actual size drawings of this project which began to bring to life the monumental size and character of this scale locomotive. If the level of integrity were different in our business, we could more freely share our development at this point, unfortunately we must continue to make decisions to protect of investment.
2/15/00 - In the next two (2) weeks we will be soliciting feedback from our existing customers regarding this project on an informal survey form that will be mailed to all of our customers. We are at the point in our planning where we need to set a limit on the production quantity and we are going to try and make certain that we have a reasonable quantity of models available for purchase by new customers. Our preference is to produce only 100 units including all of the variations we are planning, because of the enormous interest already expressed by those familiar with our plans to model this prototype, we may find it necessary to up the quantity somewhat to give our potential new customers an opportunity to purchase. Once we have contacted our customers we will be able to give everyone a better idea of where they stand in regards to purchasing one of our Y6b's.
1/10/00 - Having just returned from Korea again, I can tell you that the design and development is progressing smoothly. We are having to keep the details of our development somewhat under wraps do to the nature of our competition. There is at least one other importer planning on producing the Y6b and we certainly have no interest in making their work any easier. The demand continues to grow and many new customers have fear that they will not be able to purchase at least one of these models because of our policy of servicing existing customers first, we will attempt to determine in the near future exactly where our existing customers formally stand on this project so that we will be able to give new customers a better idea of what the odds are for available models for their purchase. We will not increase our planned quantities to meet the overwhelming demand, our position is that such a move would hinder or impact the overall quality that we would be able to offer in the finished model. There is definitely a point of diminishing returns in terms of the relationship of quantity and quality.
11/10/99 - As the general design and development of this project continues we are also working on the electronics portion of the development. We will be using a whole new generation of electronic technology to bring the true-to-life sound of this prototype to our customers. Additional information on this development will be available on our technical update page.
We have had numerous requests from people to place orders for this project already, but we are holding true to our policy of existing customers having preference initially and also not taking reservations until we have completed the sample model. we anticipate the completion of the sample in time for the Winter shows after the first of the year and if all goes well, we should have the project completed by Summer. Check back frequently if this project is of interest to you.
10/8/99 - We are now at the point in this project where we feel it important to start providing regular updates regarding it's development. If you have interest in this particular model please follow closely what we are proposing and offer your comments as frequently as possible.
So far we have minimal interest in the original oval smoke box door version, as a result we will model the early versions as rebuilt which gives them the appearance of the later groupings with their more commonly seen round smoke box door and relocated feedwater equipment. We are now planning on doing all five (5) variations and for those that are not familiar with the variations, the most visual aspect of the variations are the rivet patterns on the tenders. With each successive group produced, the number of rivets and seems was reduced through welding. We will certainly model all of the appropriate detailing on the locomotive to correspond to the tenders. More detailed information will be posted to the site to help illustrate the differences, please check back frequently for these updates.