Availability: This project has been sold out for quite some time. If you are interested in acquiring one of our UP 'types', please let us know and we may be able to put you in contact with an owner interested in selling a model.
Price: $3,900.00US
Versions Offered: 2
Production Quantity: 100
12/03/10- In the process of searching through thousands of photos that I have taken over the past several years while in Korea, I located a couple that I thought would be interesting to share with anyone interested in this project. Long story made short, in the course of developing this project, new information became available late in the production process (post painting) that indicated that although our design was a vast improvement over previous models of this type, it was in fact substantially incorrect for the version we intended to produce. The decision was made at that time to literally scrap what had collective been done to that point and to live with the 'heat' generated by that decision. This was a demonstration of Mr. Lee's commitment to building the finest models possible when I made the suggestion that this was the only course of action possible.
Shown in the two photos below is approximately 50% of the version #2 production in the process of being scrapped. An effort was made to salvage as many castings as possible, but the boilers and firebox assemblies were destroyed. I suspect that this level of commitment to trying to do things as correctly as possible is why this project remains as the most sought after model that we have produced to date.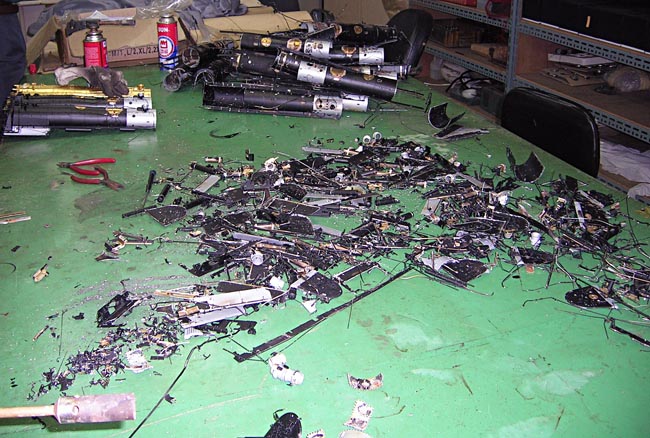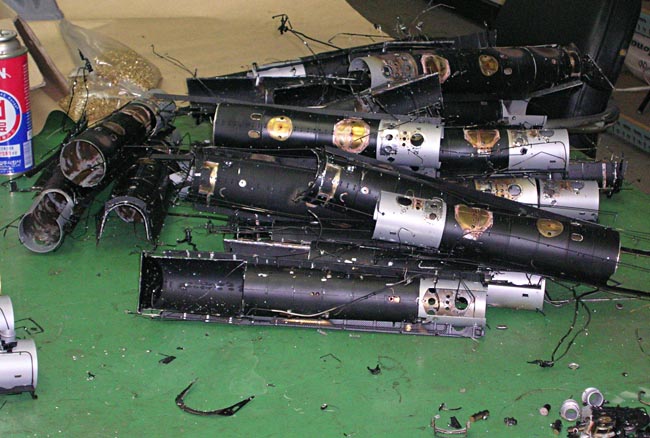 3/03/05 - After traveling to several shows since the deliveries of the Union Pacific project have been going on, it has been very gratifying to receive the feedback from customers across the United States and also in Europe, this project has created more positive feedback than any previous release from Kohs & Company. The feedback is particularly important to us with this project considering the lengthily delays and the frustration that we have all felt awaiting the completion. Again, we need to thank all of you that have been part of this effort, your patience, understanding and cooperation made the final results of our efforts possible. Also, a special thank you to all of you that have made the extra effort to seek us out at the shows we have attended, written to us or phoned to thank us for the level of excellence our Union Pacific 'type' represents.
12/15/04 - Just a brief update regarding the final remaining deliveries to made on this project; the last of the version #3 (post-war) models are going out now and should be in their new owner's hands before Christmas. The wait for our 4-12-2 has been very extended and we want to thank those of you that have persevered, our only consolation has been that the feedback on this project from our clients around the world has been extremely positive, with the typical comment being that the wait was well worth it.
10/14/04 - Just a brief project update to let you know that we are working on the photos and data that we will post showing the post-production, pre-shipping inspection process. To let those with reservations know, we are working to catch up on our shipping of models by the end of this month, an update letter for reservation holders is also going out as of this writing. Once we get caught up we'll again be more accessible by phone and E-mail, our focus has been on shipping and keeping our other projects in production moving in the right direction. Your patience has been greatly appreciated!
8/12/04 - We are celebrating, we are finally delivering this project! Our models have been cleared through U.S. Customs and are in our hands, the delivery process is underway. We again thank all of our very patient customers that have stuck with us through this seemingly endless process. The big consolation to us is the quality of the models that we now have to deliver, I do not feel that anyone will be disappointed. We will be offering further comment on the subject, but it's time to get models out the door! We will be posting photos of the completed painted models to this site over the next couple of days.
8/05/04 - In the photos below you will see our production models undergoing their final inspection in Korea. Prior to getting to this point, the models have been individually inspected twice (no including sub-assembly inspections) and each test run twice by the staff at Sun Jin Models Company. While one of our competitors is purposefully lying about what builder actually constructed his models, we are extremely proud of our fourteen year relationship with Sun Jin Models and it's workers that have gone the extra mile in crafting the models that we have presented under our logo. Each manager that we started working with in the very beginning is still working at Sun Jin, this helps to explain the level of consistency that each of our projects has displayed in terms of quality of finish and detail. We take great pleasure in highlighting the individuals that provide the skill and dedication that have contributed to our success. There are no shortcuts for taking the time or making the effort to do it right.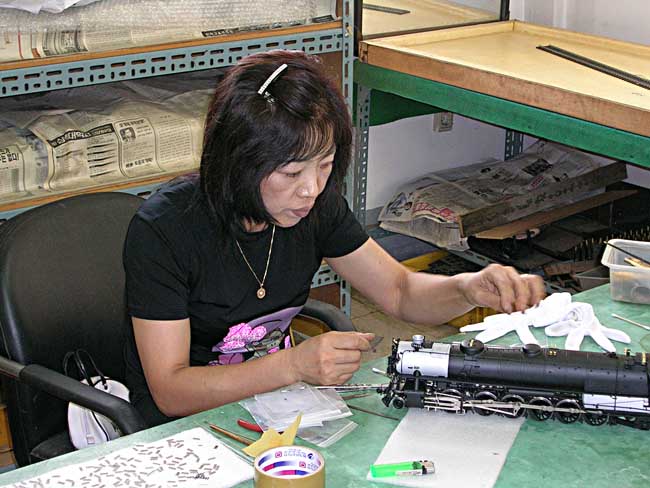 Above - Each model is again primped prior to being lined up for final inspection.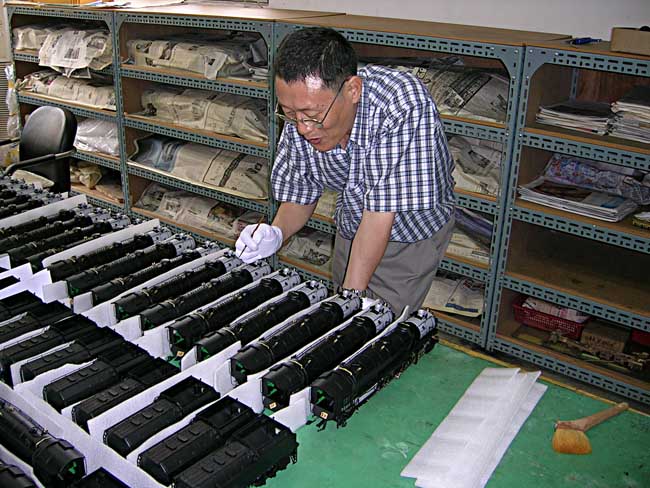 Above - Mr. Kang our painter is giving one more look prior to being on the hot seat!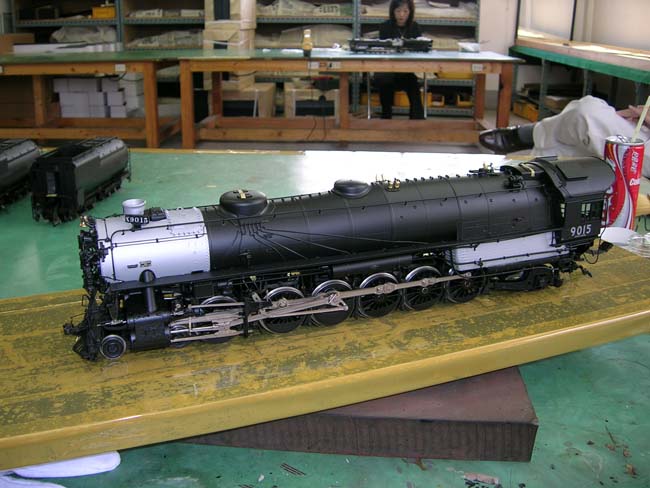 Above - The final inspection turntable that provides a well lit 360º view of each model, the surface is machined true to provide a actual indication of the tracking for each individual wheelset prior to track testing.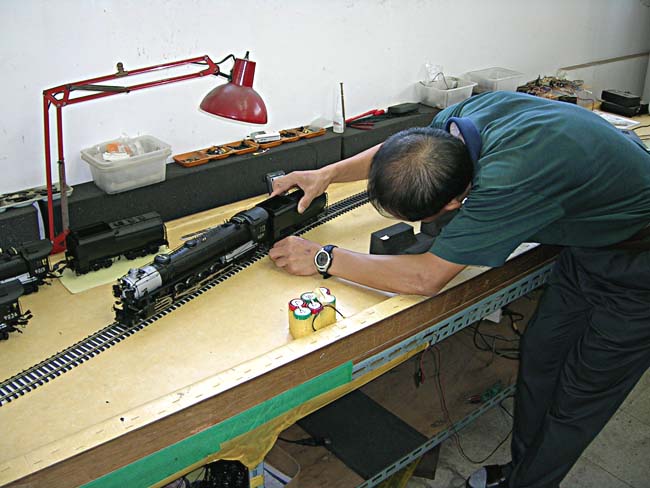 Mr. Han is shown preparing a model for it's third track test prior to it's final cosmetic inspection and then packing.
6/30/04 - We have a further update regarding the final update mailing which was to have taken place a couple of weeks back; after several inquiries about not receiving the update on the expected time line, we made further inquiry and determined where the problem occurred. We utilized a mail processing service to process the final update mailing and basically they lied to us about when the mailing actually went out. Domestic clients should be seeing the mailing arrive later this week and international clients should see it shortly there after. Our apologies for this situation! Every time we try to speed the process by seeking outside assistance even with the simplest of tasks we get burned, there must be a lesson there somewhere?!
6/25/04 - The final project update has been completed and has been mailed to all current reservation holders along with the final payment notices. We have very mixed emotions about this project, it has taken for ever to complete and we will be extremely happy to have it completed, but we believe that the final project update photos will show results that we can be very proud of. We believe that there has never been a finer and more historically accurate project completed in O scale or perhaps any scale short of 1:1!
5/31/04 - A new status report regarding this project is in the mail to all current reservation holders. This status report will be followed up this week by a full project update including photos, included in this second mailing will be the final payment notices leading up to the delivery of the models.
5/24/04 - Our trip to Korea is complete and the UP models look fantastic, it was thrilling to see the results of such a long running effort. We are preparing the final project update that will be mailed to all reservation holders along with final payment notices early next week, the update will include photos of finished 'Pre-war' and 'Post-war' models in detail. Enough cannot be said about the level of detail and the quality of construction, the models will have to speak for themselves. Our persistence with this project has been rewarded!!
5/18/04 - As of this writing, an inspection trip to Korea is underway and we expect to have the models headed to our shop by the end of this month. As soon as we return an update letter will be mailed out to all of our reservation holders. The end is in sight and we can't wait to have this project wrapped up once and for all. The Union Pacific 'type' project will stand for quite some time as a monument to our commitment to doing things correctly, accuse us of being slow, but never of cutting corners and compromising our models. This project has proven to us just how serious our clients are about wanting the best models possible, we hope to never experience a project like this again though, we are not sure that we could survive another one! Another update will be posted later in the week and detailed info will be mailed to reservation holders.
5/04/04 - We apologize to those of you that have one or more of our UP 'types' on order, we have been pushing hard to get this project wrapped up without compromise and it has been a challenge to say the least. All reservation holders will receive a project update in the mail very soon and the final notices will be going out shortly as well. This has been the longest running project since we began producing O scale models and it has pushed us all to our limits, but with great credit to all, no corners have been cut to rush to completion. The models that we will be delivering will be examples of our finest work and we trust that even those that have been waiting from the very beginning of this effort will not be disappointed. More news on this project will be posted in the very near future.
3/18/04 - We have been holding off on providing an update until we knew exactly what the situation was regarding the completion of our Union Pacific project. We have been waiting for the completion of our custom electronics so that the final stage of the assembly could be completed. We have gotten word that we will have the components on the 24th of this month, so it will not be long after that when the project is complete. I should mention that the problem has not been with Dallee Electronics, it has been with their contractor and we understand those types of situations very well. We appreciate you patience and we will provide a further update once we have definite timing for the completion of the assembly process.
1/21/04 - As the new year gets underway we are happy that this long in process project is drawing to a close. After viewing the status of the project during our recent trip to Korea, we are more enthused than ever about what we have accomplished with our extremely dedicated builder. We were still 'tweaking' the models during our visit, but we expect to be doing the final project inspection early in February, with the delivery to our shop to follow shortly there after. For those with reservations, we will be sending out a final project update brochure during the next week, it will highlight in photos of the sample models exactly what we have developed after revising our original plans. Although this project has been underway for what seems like forever, the level of interest continues to grow as more and more enthusiasts come to understand what we have done during the period of months that we have been working on our 9000. This has been the most difficult project we have undertaken for a variety of reasons, chief among them; the complexity of the suspension system, the complexity of the valve-gear and third cylinder, and the requirement of getting this monster around non-prototypical curves.
12/29/03 - Shown below is a preproduction sample of the 'Prewar' version of the 9000. We will be posting a complete series of photos of this sample over the next couple of days so please check back frequently. We have reference photos of this configuration carrying both the early and late style graphics that the Union Pacific utilized on it's road locomotives.
12/05/03 - Just a brief update to let our reservation holders know that although this project will be finished up by the end of the year, we will not be bringing the models in to the country until after the holidays. Likewise, we will not be requesting final payments until after the holiday season is complete, if anyone so desires for tax or other reasons, we will certainly accept final payments before the end of this calender year. A new project update is being prepared and will be mailed to all reservation holders shortly with photos of the latest developments.
11/03/03 - This project continues to evolve and set the stage for our future efforts. Shown below is a sample of the machined third cylinder center crank that will be used on all of the production UP 'type' models. This type of part is traditionally produced using the lost-wax casting method, but being an essential operating component, it was decided to use a more precise production technique. There will be other components on the model which will be done the same way and on future projects, more and more parts will be individually machined to make our efforts even more distinctive and precise. Be assured that using machined parts is significantly more expensive, time consuming and difficult than using castings, but we want our models to continue to be the best available.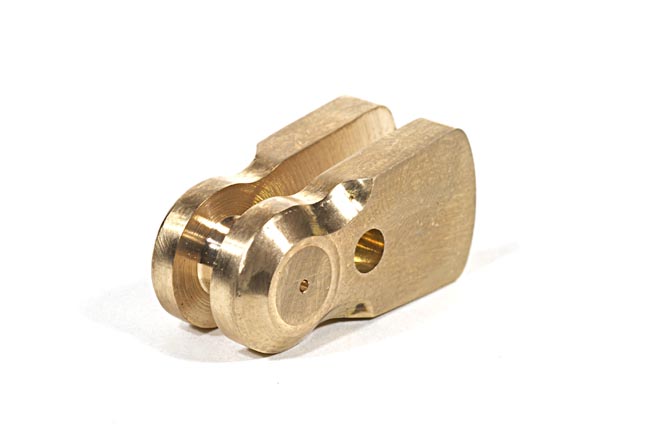 9/01/03 - A second project update has been mailed to all our reservation holders for this project. If you are interested in our Union Pacific project , have not received the second update and would like to, let us know and we'll be happy to mail one out to you. The response to what has been seen of the revised 'postwar' version has been fantastic, we are very gratified by the comments and are reassured that we made the correct decision in delaying the project until we were satisfied with the development. The next updated version will be highlighted shortly and the changes are just as significant, be sure to check back frequently for new images.
8/07/03 - Below is a comparative view of front ends, the foreground model configured with ATC (automatic train control) equipment and the background model not. The ATC arrangement requires more than just the box mounted under the running board near the front; it requires special wiring conduits, a special extended pilot , rail pickups mounted under the pilot and cab mounted signaling hardware.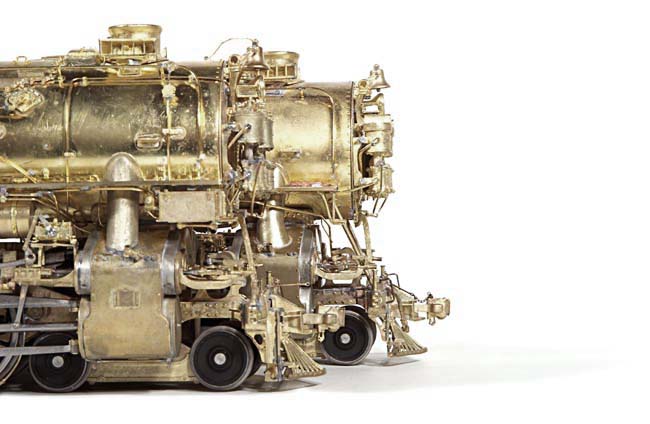 8/06/03 - Below is another view of the early sample (left) and current revised sample (right). For reference, the smokebox faces of the two models are evenly lined up, again, look for all of the differences. The early sample was originally thought to represent the definitive version of the Union Pacific 'type', but the data led us to the ultimate 'postwar' version as configured on the right.
8/05/03 - The image below provides the first direct comparison between where we started with this project and where we are as of the latest sample. Before we provide a detailed explanation of what we have developed, see if you can identify the major differences between the latest sample in the foreground and the original in the background. There are significant design changes and the latest sample typifies the final evolution of the class.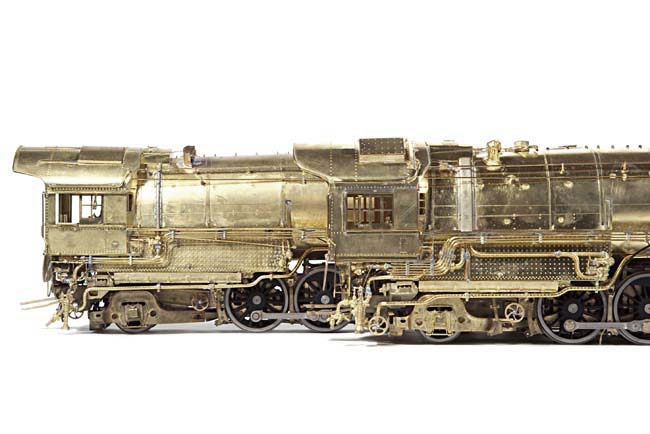 8/04/03 - Shown below is the first of many new images of the latest sample to be posted, we are in the process of photographing the intricate and extensive detail incorporated into this model. The additional photos will be posted as soon as they are complete, we will also be preparing a new update brochure for all of our reservation holders that will be mailed by the end of this week. Stay tuned for a further explanation of what we have developed with this model.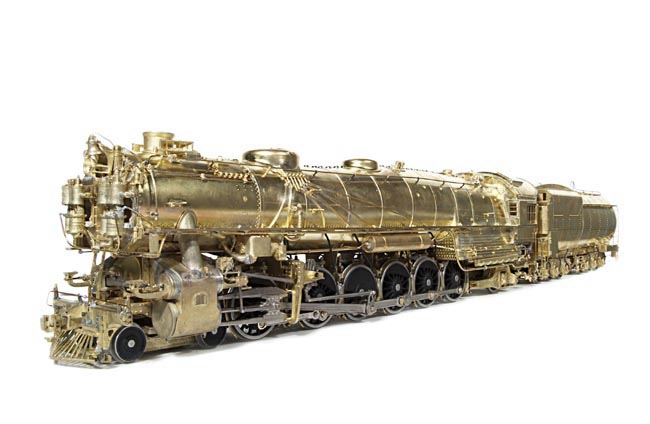 7/07/03 - The preproduction samples are nearing completion and we have posted just a couple of new photos to wet your appetite for the completed models. The detail and features incorporated into this model are the most advanced we have done to date and unsurpassed by any of our competitors. The first three images are of the 'post war' third version and the fourth image shows the latest driver center revision which can be compared to previous postings to show the advancements made in the design. The changes represented in just these four images are too numerous to mention, but they were included in the project redesign update that initiated this final effort. A full set of images will be posted as soon as they are completed and they will be included in the upcoming mail update that will go out to all of our reservation holders.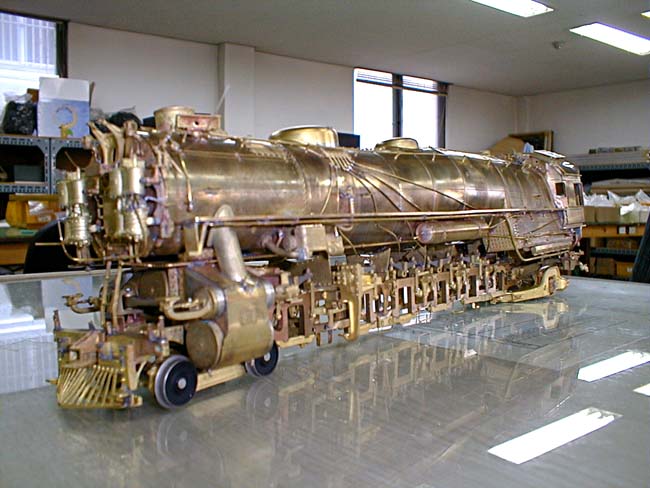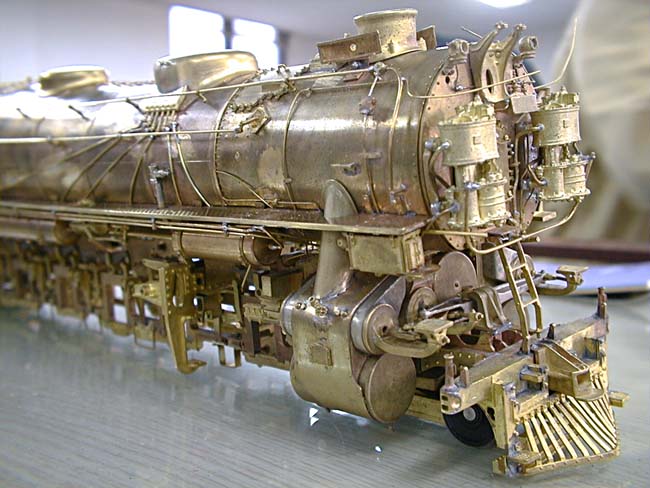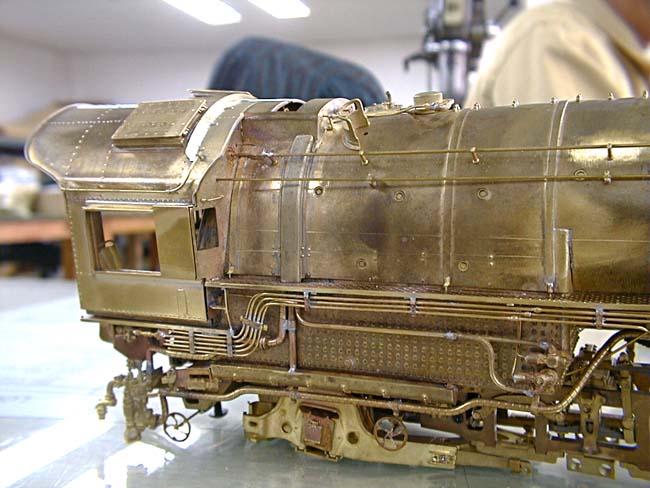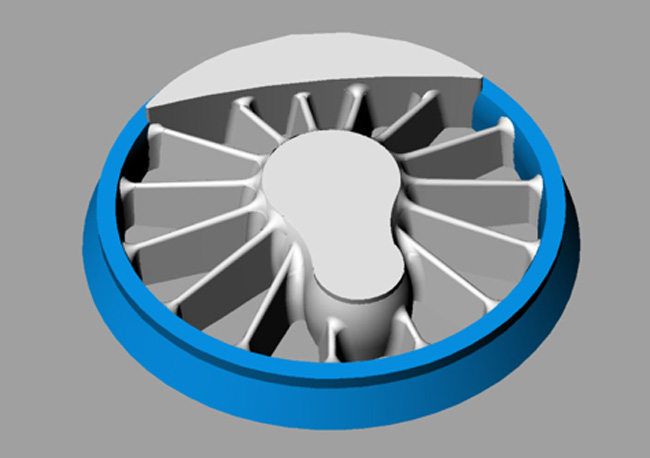 6/15/03 - The postal mail update for our UP 'type' customers has gone out, if you are a reservation holder and have not received the update, please let us know. As soon as the last sample models arrive they will be photographed and there is a new 4-page color update that will go out to reservation holders. Based on the part samples and drawings that we have been reviewing, this will be our best yet for a variety of reasons. Our future 'Big Boy' without our 4-12-2 as a stablemate will just not be the same because the prototype development and operations were so intertwined during the period we are modeling. Our final push towards completion of this project will begin very shortly.
6/04/03 - For all of our UP customers, there is a new update in the mail to you and you should be receiving it shortly. We are currently awaiting the arrival of our preproduction samples that will show all of the redesign work that has be done updating the versions. The drawings and parts that we have reviewed are very exciting to us, this promises to be the best project to date with some truly unique detail and attention to historical accuracy. Our efforts on this project will provide the first true representation of this prototype in miniature and will be a great stablemate for our Union Pacific 'Big Boy' when we get to that point.
4/19/03 - As of this date, many components for our Union Pacific project are in final production and the final pre-production prototype models are being finished up. As soon as the models are in our hands a comprehensive set of photos will be posted to the UP 'type' site. Extensive redesign work was required based on our change of direction, but we are very happy with the end result of that effort. For those with reservations, we will be sending out the notice for the second installment in the next couple of weeks.
Shown below is an example of some of the new technology we are utilizing in designing and manufacturing our models; this is a rendering of the solid computer models used to machine the driver centers, notice the four different styles required. The rendering does not show the exact final shape that you will see when you look at the drivers on the actual model, the final shape is dependent on the shape of the cutter used that will leave the correct radii where the spokes meet the rim and center hub. You can get a pretty good idea of how complex the shape of each center is and how difficult it is to get the shapes exactly correct.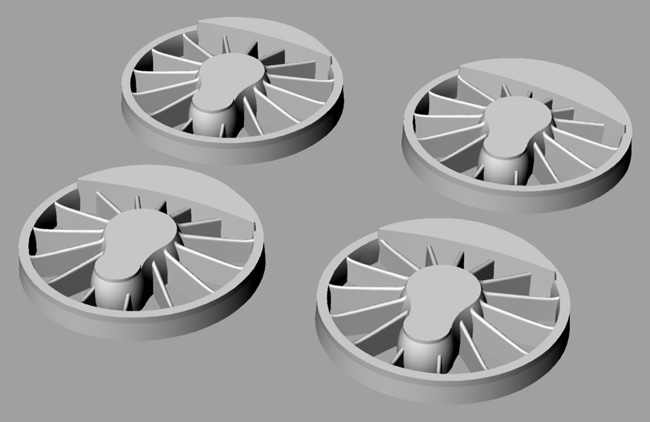 2/18/03 - Since our last update and prior to heading to O Scale West, we mailed a printed project update to all customers holding reservations for our UP 'type' project. If you should have and did not receive your update please let us know and we'll mail another copy. This update will be followed in a couple of weeks by another that will continue the discussion regarding the version modifications..
2/04/03 - On the prototype images page we have added five new images of locomotives in the late post-war configuration. These images show locomotives with the heavily modified and relocated cabs with bay windows, along with all of the final changes made to the class. Road number 9084 shows the 'ATC' equipment in place, notice the equipment box under the running board and the modified 'ATC' pilot. Many of the changes made after the war were not only to improve performance, but also crew comfort and safety as the railroad unions began to be more of a factor in day to day operations.
2/03/03 - In the last brief update a day or two ago, we mentioned on the ongoing evolution of our 'as built' versions for this project, if you check the prototype images page, you'll note that we have added a couple of new photos which represent typical pre-war variations of the 9000's. From the beginning we entertained questions regarding whether or not the 9000's ever ran with their original early style graphics and exposed sander equipment, two of these photos clearly show this to be the case, while one shows the same basic configuration with the late style graphics. The conclusion to be drawn is that the late 30's was a transition period in more than one regard for the 9000's, while we have only posted three, we have encountered numerous examples while reviewing a rather large collection of images. The pre-war period was sort of the final evolution of the original 'as built' configuration, before stokers and other major changes took place. In trying to track the final days of the early style graphics, we have not been able to determine when the multi-colored herald that was so prominent on the tender disappeared. You'll note in the new photos posted, that the herald is gone, while the painted on graphics remain, the herald was actually an enameled plate that was riveted in place when originally installed.
More detail to follow!
1/31/03 - At the outset of this project, we felt that we had a pretty good feel for what we wanted to accomplish with this project, between expert guidance and the wealth of reference material in addition to customer feedback, our course was set..........so we thought. The most often sited standard of referenced by those interested in this project has been the #9000 locomotive that still exists and is located in California. While this monument to days gone by does represent many of the final advancements of the class, it is by no means the final word in the 'Nines' development. From the outset, our 'post-war' version was to be modeled after the #9019 'program' engine that the Union Pacific rebuilt in the mid forties to use as their standard for all locos in the class that remained in service after the war. At first glance it appears very similar to the 9000 at the fairgrounds in Pomona, but only as we have become more educated did we learn the significant differences. 'Little' things such as the fitting of an E-2 style buffer assembly between the loco and tender that necessitated moving the cab back 12" on the frame, the re-sizing of the cab, the installation of the very distinctive bay windows on the sides of the cab and others all add up to be the final evolution.
What has made the process even more of a challenge is the fact that although the modifications are documented in drawings, knowing from previous experience that just because it was drawn doesn't mean it was so, many of these same modifications were seemingly not well documented in builders type photos. With the assistance of John Bush searching service records of the locomotives and analyzing in-service photos we have come to a reasonable understanding of where our 'ultimate' post-war version needs to be. The correction count for our third version is approximately 150 changes, many of which are significant modifications of or additions to our original sample model. For those that have specifically asked, I should mention that our third version will be 'ATC' equipped. As the overall project continues to evolve, our other versions are moving away from classic 'as built' representations as we have learned the significance of some of the pre-war variations, we'll include more detail on this aspect in the next update in just a day or two.
1/12/03 - Another inspection trip is complete and we're thrilled with the progress on our most difficult project yet! Our first mail update for reservation holders is being completed now and will also be posted here. It is likely that you have may have seen one of the models previously offered of this prototype by other importers, but I can assure that you have never seen the UP 'type' modeled in all of it's glory representing the final evolution of the class. Based on this most recent visit, we can say that the project is moving towards delivery by late spring of this year, more detail will be offered in the comprehensive update to be posted soon.
12/05/02 - We are a bit behind in updating this project as we have had our heads down doing the development and trying to get caught up on our PRR GLe cement cars delivered. The reservations have been coming in very nicely and we're very pleased thus far with the response. It has become very apparent which version is the favorite and I will say that it's no surprise. We will be updating this project in detail in the next couple of days and by months end, we will be doing mail updates to those with reservations for the project. To those of you that have sent in reservations, we will be sending out the confirmation letters by the first of next week, we appreciate your patience and we want you to be certain that we have your order in hand. We have learned an awful lot about this prototype in the last few weeks and we're eager to pass along some of our newly acquired knowledge!
10/24/02 - For anyone that is interested in a reservation for this project, please be advised that we have mailed brochures to all of our current customers as well as anyone that has requested information on this project. If we have overlooked you or your brochure did not make it through the mail system please let us know and we will forward a new copy as quickly as possible, a copy of the sales brochure may be downloaded from the site as well.
A further update regarding this project will be posted shortly, please keep in touch.
9/12/02 - The reservation packages are finally complete and we will start the mailing this coming week. We understand that many of you have been extremely anxious to get your names on the books for this project and we do apologize for the delay, we continue to fight the battle of time and meeting all of our commitments. We are particularly excited that we have a whole new group of modelers interested in what we're doing because this is our first west coast locomotive project, we look forward to hearing the comments of many of you that we have met over the past few years while attending O Scale West.
8/05/02 - The complete preproduction sample pictured below has arrived! We are feverishly shooting photos for the web and to include the reservation packages that will go out shortly. Please check back frequently for the latest information and photos, we will be posting considerable new data all this week. Let us know what you think as the process proceeds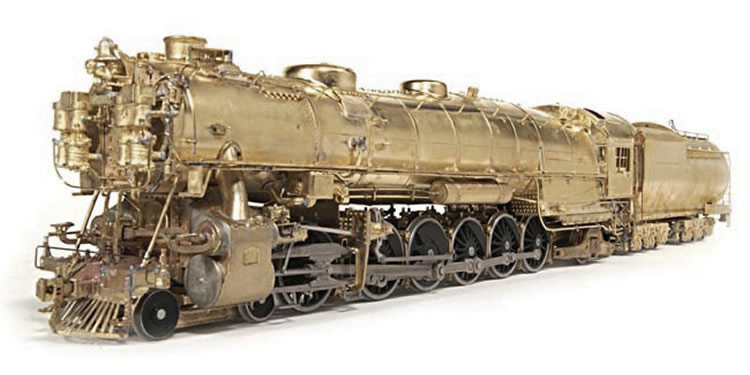 6/4/02 - The image below is one of about a dozen that we will be posting showing the continuing progress on our sample model for this project. We hope to have the images 'up' in the next 24 hours. This 'shot' shows the 3rd cylinder crank and rod as well as many of the equalized suspension components. We continue to try to find new ways of doing it better!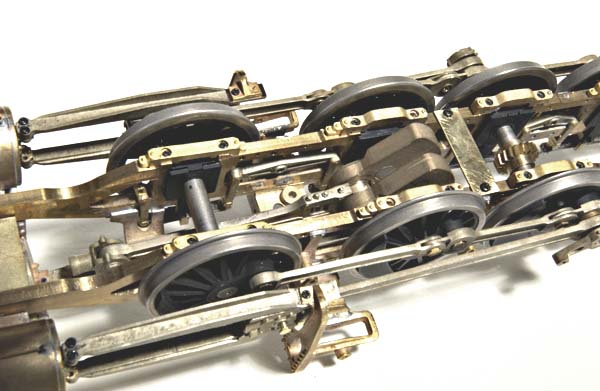 5/19/02 - The sample '9000' is progressing rapidly at this point and in fact, we are anticipating the delivery of the sample by the builder this coming week when they visit our shop in Clarkston, Michigan. When the model is in hand, we will be posting photos to this site. In the meantime, we thought that it would provide some insight into the process of developing this project if we posted an ongoing series of photos illustrating the progression. Shown below are the first in the series, under each 'shot' is a brief description of what is represented.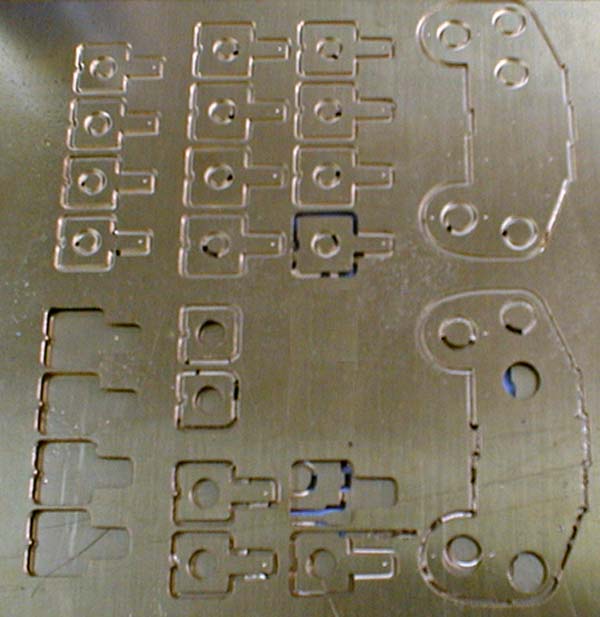 Steam chest sheet metal being etched from brass sheet stock.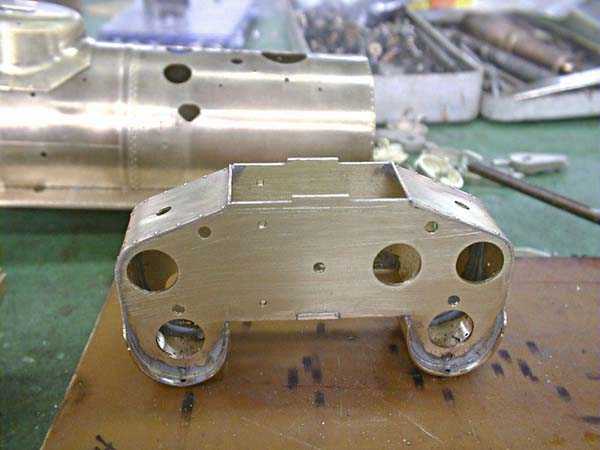 Steam chest sheet metal being formed and soldered.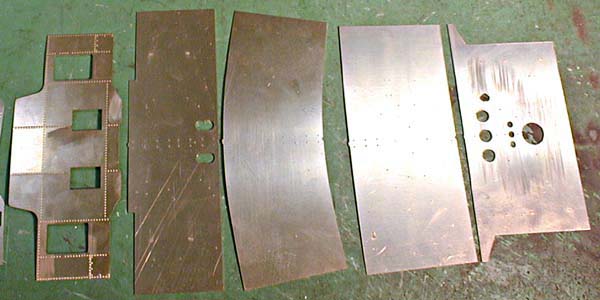 Cab sheet metal after being etched from brass sheet stock.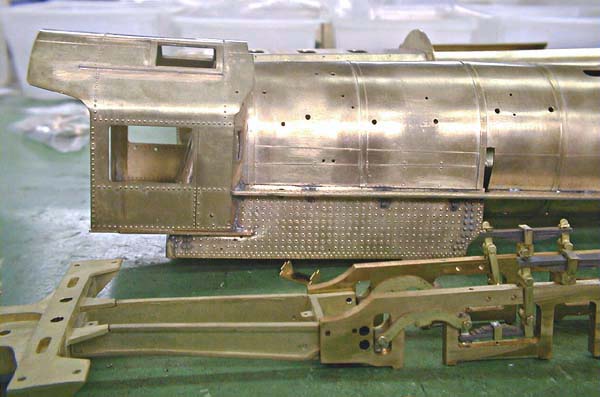 The rivet detail on the sheet metal parts are 'punched' not etched, a process completed before the forming.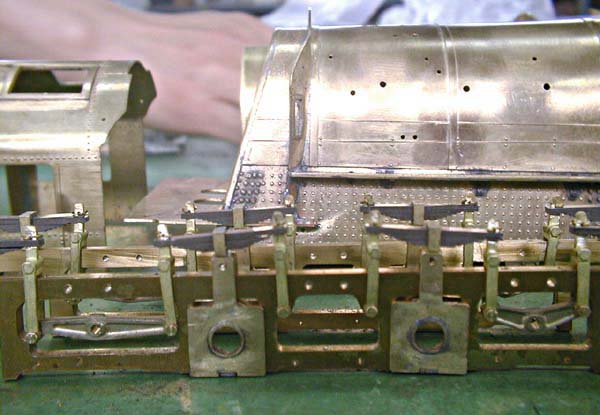 The equalized suspension begins to take shape, notice the fabricated stainless leaf springs.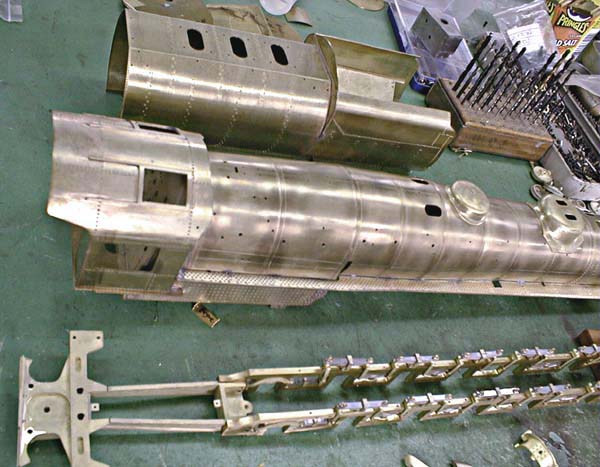 The boiler begins to take shape with a series of prototypical 'courses' and individual boler bands.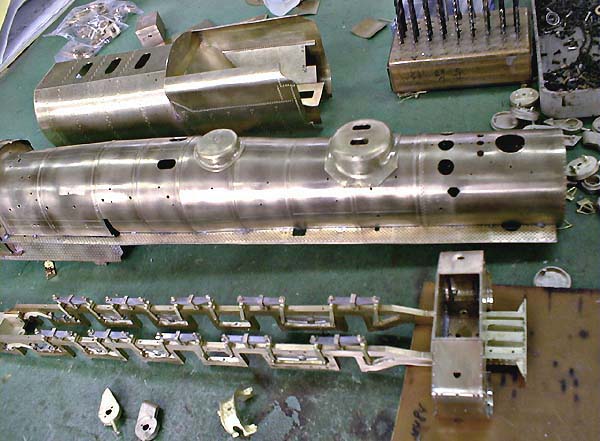 The die-formed sheet metal begins to be added to the bouler; sand dome, steam dome, etc.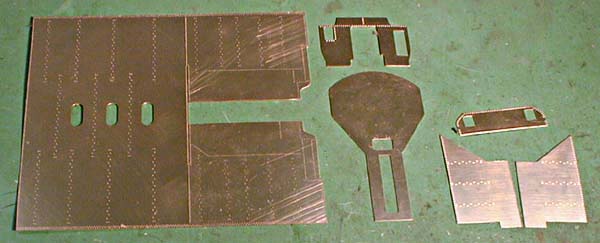 Sheet metal parts for the 18-C tender after being etched from brass sheet stock and then 'punched' with rivets.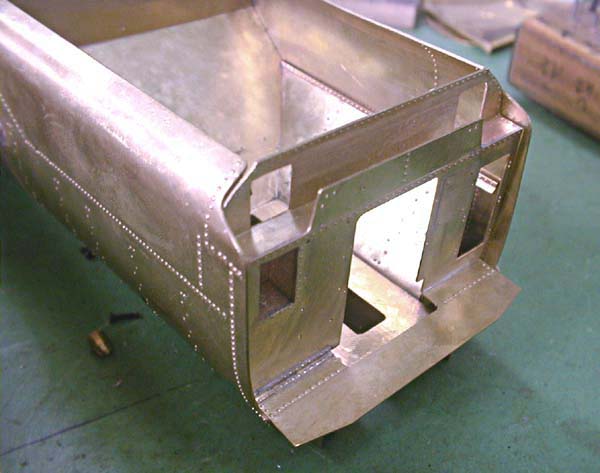 The tender tank after basic forming has taken place.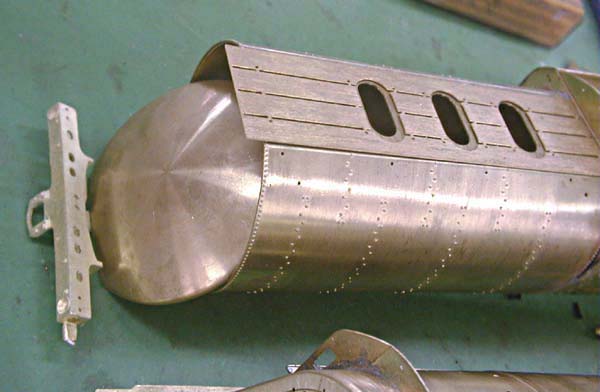 The tender tank is a combination of etched, machined and die-struck parts.
A small sampling of hand-made master patterns used in producing the hundreds of castings used on each model.

4/25/02 - We have certainly fallen behind in communicating the current status of this project through the web site and that is not intentional. The project has in fact moved into the very serious stages of completing the first sample model and that will be shown for the first time at the O Scale National Convention. Much of our effort thus far in the project, aside from maintaining fidelity to the prototype and developing a project consistent with our previous efforts, has been directed at shortening the development/production cycle and we feel pretty good that serious progress has been made in that area.
Shown below are the driver centers being machined from a solid billet, you will notice both driver styles that will be used on our models, the standard 'spoke' style and the 'disc' style that was used in later years on the main and secondary main positions. This work is being done on a CNC machining center that has been shown in previous updates, but the difference now is the software that we have changed to in an effort to take full advantage of the machines capability. We are now using Parametric Technologies Pro-Engineer software which is a state-of-the-art environment for product development. I should mention at this point regarding drivers, that I have heard several incorrect statements regarding our product planning that I should correct. I have heard it said that we will be using 'blind' drivers in the main position on all of our models, this is not correct. My best advise about learning exactly what our product plans are is to contact us directly with your questions or concerns.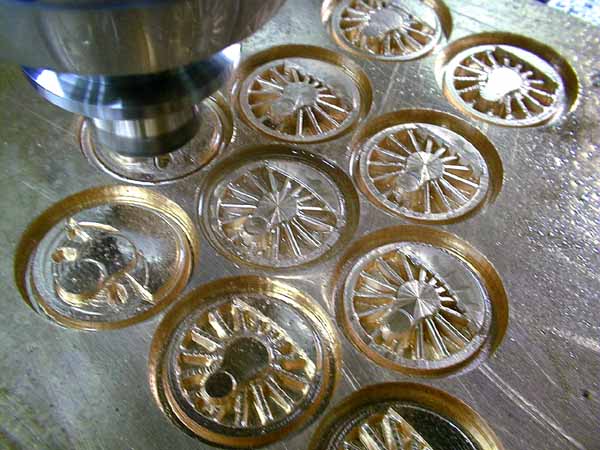 We are presently putting together a refined project outline that will be posted to this site and will also be included in our upcoming update mailing. Our on-line plans are to present a continual stream of photos from the development process in the hope that it will better acquaint you with the actual processes used in developing and producing our models. If there are any particular activities that you would like to see presented, please let us know and we'll do our best to let you see that work in progress. I should also mention that we will be starting the reservation process for this model next month with a well founded belief that we will be delivering this project late this year.
12/28/01 - We have a major update on this project pending after having made a research trip to Omaha, Nebraska to visit the Union Pacific Archives, the trip was made just prior to Christmas. During the trip I had the opportunity to visit with Mr. William Kratville the well known author and authority on the Union Pacific, I would like to offer Mr. Kratville my sincere thanks for his assistance during my visit. Another opportunity that came as a real surprise was the chance to meet with Mr. John Bush who coauthored the landmark two volume set of books on the Union Pacific 'type' with Mr. Kratville. Mr. Bush went out of his way to make himself and extensive information available on very short notice and I wold like to publicly thank John and his wife Mary Ann for their hospitality during my visit.
When I left for Omaha I felt that I had a pretty good knowledge of the 4-12-2, but after my two day visit and extensive 'tutoring' I can honestly say that I have never before learned so much about any prototype in such a short period of time. There was so much information offered that we are still digesting the critical fundamentals to make certain that our variation designs are accurate. Within the next few days we will present an outline of the versions that we have tentatively settled on and will be seeking feedback from those interested in this project. For anyone that is seriously interested in the 4-12-2, I cannot stress the value of the two volumes published by Mr. Kratville and Mr. Bush enough, the two volumes of The Union Pacific Type are becoming very difficult to find for sale, if you are interested, get in touch with me and I may be able to direct you to a source, at least in the near term.
More information will follow in the next few days.
12/17/01 - With the completion of our Y6b project at hand, the UP 'type' becomes our active or current project. As has been previously mentioned, we have secured the assistance of William Kratville, the noted author and expert on the subject of the Union Pacific. In that regard there is a visit to the Union Pacific headquarters planned prior to the holidays to pick up the last of the reference material required for this project, that promises to be an exciting adventure, we'll provide details as soon as they are available. Please stay tuned, the information on this project we be coming more frequently as our focus shifts to the UP.
12/2/01 - The focus of our development has shifted to a degree as we have become more involved in the research process and have conferred with more of our existing customers that have an interest in this project. At the same time that we are concerned about the integrity of the design, we are evaluating new technology to advance the operational characteristics of this model. We'll try to outline where we are in these processes at this point in time.
Our basic design effort is now focused on only the UP-4 version of this prototype, this being the single largest group in the entire production of the 4-12-2. We will produce two variations of the UP-4, the first, being the largest quantity, will be an as modified example incorporating all of the late modifications including the exposed sanding equipment and disc style main drivers. The second and very limited variation will be an original 'as-built' model utilizing the original paint scheme, including the old letter style with multi-colored herald on the tender, this version will have the original concealed sander pipes and equipment. Both planned versions will use the 18C style tender, although there are variations between the early units and the way they finished service, these differences will be reflected in our project. The number of total models to be produced will be fewer than with previous efforts due to the many mechanical challenges we face with this project.
On the mechanical side of the equation, we are taking a new approach in regards to our drive mechanism, both with the motor and gearbox. Beginning with this project we will be utilizing a new low-speed coreless motor built especially for us, although it produces more usable torque than the Pittmans we have been using, it is half the size. Being a coreless design, there are no more concerns about the cogging affect of the armature segments at low speed, also being brushless, the motor is virtually silent when running. In combination with our new motor, we will have a new Swiss gearbox built to our design, the Swiss being known for their precision machining will do an impeccable job of implementing our concept. As you may be able to tell from this even more advanced commitment, we are very serious about making certain that our projects are the best available all aspects considered.
Our models will utilize miniaturized versions of the lateral motion devices used on the original prototype to allow the negotiation of the tightest possible radius curves. The third cylinder as well as all of the valve-gear will be operational and the suspension will be equalized from the engine truck through the trailing truck. We have already begun working on the correct sounds, including the third cylinder, this was made possible by the extra effort of one of our great supporters who supplied original recordings of the 4-12-2 at work The design phase of the project will be complete in January of 2002 and we expect to be showing the first sample model at O Scale West in February.
Stay tuned for more information, it will be coming fast at this point!
5/25/01 - At the same time that we are moving the Y6b closer to completion, we are pushing the development of our future projects. With the design of the Union Pacific 4-12-2 well underway we are at the point where we have to make decisions about what basic versions or variations we will ultimately model. Our focus has shifted somewhat as we have gained a better understanding of how this prototype was actually developed and utilized, there are more variations possible than we had imagined at the outset and that has certainly made our deliberation interesting. We had originally thought that one of our versions would be the 'bald face' configuration, but it has become one of the less interesting possibilities. There are no final decisions as yet on what we will model, we would like to again solicit the input of those interested in this project to make certain that the majority will be satisfied with our choices. The two variations that we are currently considering are as follows; the original configuration as completed for the first two orders, UP-1 and UP-2, this version utilized the large 'BL' style feedwater heater hanging on the left running board. While many have said that this original arrangement was short lived, extended research has shown that it was in service for over ten years, into the late 30's. The second variation that we are considering would be based on the group of locomotives that comprised the fourth order, the UP-4's, this was the largest order for 4-12-2's to be placed This configuration used an 'S' type feedwater heater which, unlike the 'BL' which was a self-contained system, entailed having several different appliances mounted on the locomotive and inter-connected by plumbing. We envision modeling this group as they ran in later years, sans boosters with disc style main drivers and pulling larger 18,000 gallon tenders, the original tenders were 12,000 gallon capacity. Let us know what you think, it is important for us to know!
1/25/01 - As part of our planning for this year, we now have firm timing for this project. Our sample model will be introduced at the NMRA show to be held in St. Louis this Summer, the model will be presented with the assistance of Mr. Lee & Mr. Han from Sun Jin Models Company, our Korean building firm. This will be a great opportunity for anyone interested in our models to meet in person the individuals directly responsible for the construction of our locomotives. More details will be presented as the date draws closer. We are now planning to deliver this project by the end of this year.